So if you remember your history, Spanish explorer Juan Ponce de León named a swamp, "Florida," and searched for the fabled Fountain of Youth there.  Of course, he never found it, dying at the age of 47.  But he did have a super crazy signature; check it out: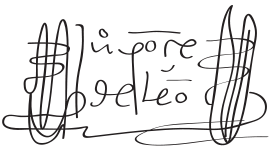 So what does Ponce de León's signature have to do with a movie review?
It's almost as crazy as Captain Jack Sparrow, who returns for a fourth installment of Pirates of the Caribbean, which is in theaters starting today.
The movie opens with the Spanish getting ready to set sail to find the Fountain of Youth and quickly switches locales to London, England, where Gibbs is on trial for piracy.  But don't worry, Captain Jack is there to save his friend from the gallows, but as it turns out, they both get pulled into the English plan to beat the Spanish to the Fountain.  Apparently Jack has some knowledge of where it may be.  Captain Barbossa – who's now working for the King of England as a privateer – is heading up the English effort.
Without giving away too much of the plot, this is a fun movie.  If you liked the first three, definitely go see this one.  Captain Jack is really funny; we laughed a lot during the screening.
And it's a fun ride that moves along quickly.  Especially when there are a number of new characters, like Captain Edward Teach, aka Blackbeard and his daughter played by Penélope Cruz.  And mermaids.
Surprisingly, I saw one critic who said that the plot was confusing, but she works for the Los Angeles Times, so I guess it's to be expected.  It's not really confusing.
Also, parents should know that the mermaids may be very disturbing to little ones…let's just say that these half-fish ladies aren't all that nice in this flick.  Plus there's PG-13 humor, such as Angelica (Penelope Cruz) asking Jack why, years ago, he was in her convent (where he apparently seduced her) and he answered, "I mistook it for a brothel.  Honest mistake!"  Quite funny, but not necessarily appropriate for the little ones.
Enter to Win!

We have a fun Pirates of The Caribbean: On stranger Tides prize pack for one lucky winner, that includes a t-shirt, bandana and 2 temporary tattoos. Just leave me a comment, before 9pm on May 31st, telling me which is your favorite Pirates of the Caribbean movie and/or character, and why, and you'll be entered.
We received two free tickets to a screening of Pirates of The Caribbean: On Stranger Tides for the purpose of conducting this review and giveaway. All opinions are our own, as always.