Proceed with caution – This post was written by my hubby, Ray.
So, it's pretty cold here in the City of Brotherly Love. But our hearts were warmed today by the sense of freedom embodied at Independence Hall…and the warm ale from the tavern didn't hurt either.
Being completely ignorant of Philadelphia's layout – less what we've seen on National Treasure – we were pleasantly surprised to find that the cobblestones of the historic district extend further than just the Liberty Bell. There must be several square miles of historic homes, buildings, shops and restaurants to enjoy. And it's not just inside the borders of the Independence National Historic Park, though that's where you'll find the most recognizables like Independence Hall and the Liberty Bell.
Lesser known pieces of the parchment include Carpenters' Hall where the 1st Continental Congress met in 1774, and where Ben Franklin met with a French spy several times in 1775, marking the beginning of France's involvement in the revolution. Also there's Congress Hall, our capital building from 1790 – 1800, and the 1st and 2nd Banks of the United States.
I have to comment that the guide for the tour of Independence Hall was a great story teller. Very animated and answered every question in great detail. He even had Abraham Lincoln's impromptu speech from February 1861 memorized in its entirety. But he often didn't hear my answers to his history questions. I guess one history know-it-all doesn't like competition!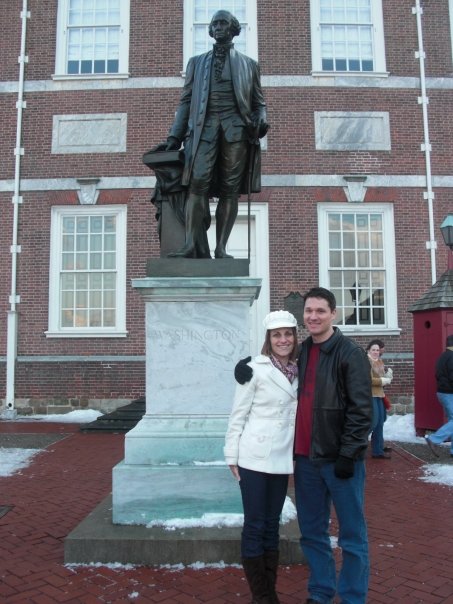 After the tour, I'm pretty sure I located the movable bricks, where Nicolas Cage found Ben Franklin's magic glasses. But, I can't be sure because the security guard made me climb down off the wall.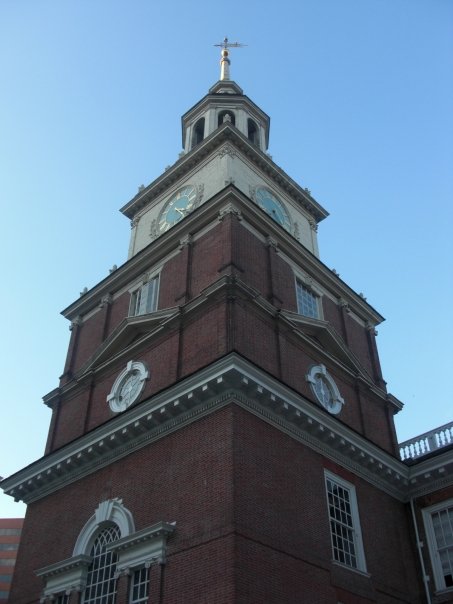 One other place not to be missed is City Tavern where you can have an authentic 18th century dining experience on the very spot that George Washington, John Adams and many other founding fathers gathered. It took years to get the research right, but it's an exact replica of the original tavern, down to the window sills and the layout of the dining rooms. Not to mention the food – like duck, venison and Martha Washington's chicken pot pie (which is excellent). And the brew: ale's recreated from Washington, Jefferson and Adams' personal recipes, all delivered by waiters in period garb.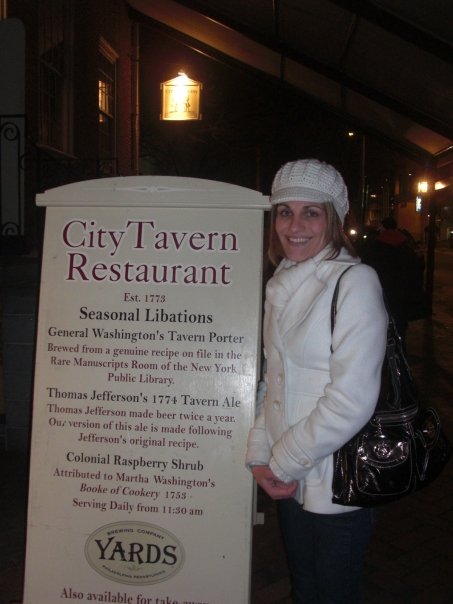 If you get tired of the historical stuff then you're un-American, but you can take a break at a nearby public market called Reading Terminal Market. It's been around since 1893 and has lots of fresh food items and goodies to eat and drink. They even have items from Lancaster County sold by real Amish…I didn't believe it at first either, but apparently they take the train in to the city everyday to "sell their wares." Who knew? I thought they might be actors, but that beard was too shaggy to be fake.

As a side note, you may remember Reading Terminal Market from National Treasure: it's the part where Cage's love interest hides behind the counter of a vendor to escape her pursuers.

Anyway, watch out for friendly Eagles fans stumbling out of bars. One almost ran us over as we walked by on our way to dinner and tried to trade up and get Christine's purse for a cheap set of earrings he'd exchanged for a half roll of electrical tape.