Ask any one of my family members or friends and they will tell you that I am not typically the type of mom who coddles her children. When one of my boys falls, I tell them to get up and keep running. My kiddos (no more babies here) play in the tub while I grab their p.j.s and throw yet another load of laundry in the dryer. My half dozen even explore the playground while I watch close by, not once hovering over them. No band aids unless you're bleeding and that bump? eh, he'll be fine.
I've never been a helicopter mom.
Until yesterday.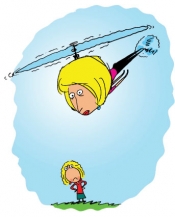 While Ethan has been fine, yesterday's episode has had me on edge. I have kept Ethan in close proximity for the last 36 hours, much to his chagrin. I haven't even allowed him to play outside, without me, and I made him take far too many breaks at the pool, insisting he sit by me.
I'll admit that I've always thought those helicopter moms were a bit paranoid. Today, keeping all of my brood more close by than normal, making sure they stayed well hydrated (even though this has never seemed to be a problem, since they all drink water like it's going out of style), jumping at every little whimper or whine, and this evening even giving in to every-single-little-request, I felt like "that mom."
Even though I know that each of my children's lives are in the hands of our Father and that I have no need to be paranoid or worried, tonight I was reminded…
"Are not two sparrows sold for a copper coin? And not one of them falls to the ground apart from your Father's will. But the very hairs of your head are all numbered. Do not fear therefore; you are of more value than many sparrows." ~Matthew 10:29-31