This is the last week of school for my kiddos. We are all so excited, but I'm afraid summertime will fly by way too fast. It doesn't feel like there will be enough time to catch up with the kiddos for all of the time lost together during the school year. I just hope we get to cross off some things from our summer bucket list!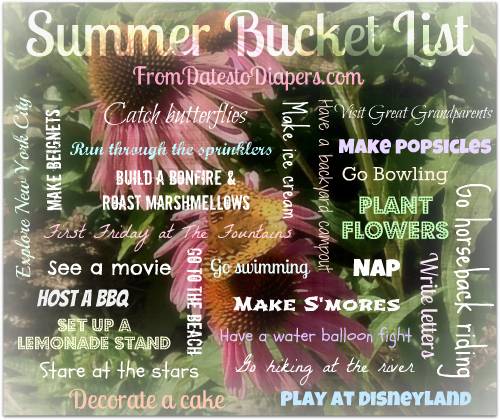 Traveling Together – Ray and I plan to take Noah and Ben to Southern California to play at Disneyland and California Adventure. We are excited about being there just as CarsLand opens! We also plan to take Ethan, Zach, Julia, and Josh with us to New York in August. I will be attending BlogHer, while everyone explores the city. We also hope to take a trip out to Coney Island to play, and then Ellis and Liberty Islands. We can't wait!
Beating the Heat Outdoors – Horseback riding, hiking, butterfly chasing, and fun in the water… we'll be enduring – and beating – the heat all while having a blast outdoors.
Staying Cool Indoors – With visiting grandparents, writing letters to pen pals and our sponsored children in Africa, free movies at Regal Theaters and free bowling, we plan to stay cool indoors as much as possible.
What's on YOUR family's summer bucket list?