It's truly amazing how quickly this soccer season came and went. We had 6 – yes, SIX – kiddos playing soccer, with four games each week. Talk about fun!
Today was bitter sweet – The end of a season. Another year gone by.
Each of us had two games to cheer on.
Ray took the twins, but Zach hurt his foot and wasn't able to play his last game with Ethan. Apparently Ethan staged a coup d'état and the opposing team ended up forfeiting. While that mess was going down, I was at Julia's game, watching through the rain.
With a small break, we headed back out to the fields… Josh's team played well and beat the best team of the league, making them #1!
Ben and Noah played hard during the last quarter of their game, kicking the ball more times than the entire season! Way to end it, boys!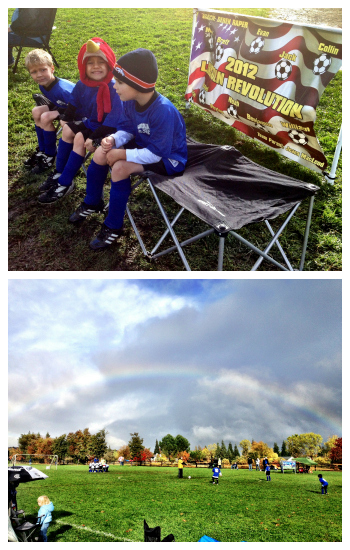 We're not sure if our six will play soccer again next year. Perhaps we'll throw in some basketball and volley ball…
Do your kiddos play any organized sports?