Well, our second week of school is just about at it's end, kicking off our busy weekend with a half day tomorrow.
Did I mention that my kids have a minimum day every Friday? Seems to somehow make up for the crazy busy, hectic chaos that is Monday through Thursday. But, I digress.
Where was I? Oh yes… we managed to make it through week two. But, boy, was it hard!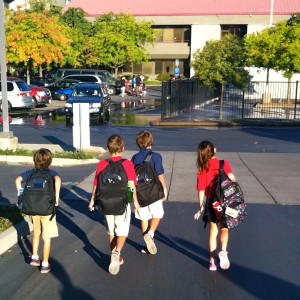 There were buckets of tears shed that first week. Most of them by me, I'll admit. It was odd having my older kids somewhere else every day. Just thinking about their teacher being able to spend more time with them than I did made me sad. I felt guilty for not teaching them at home again this year, and anxiety about whether or not we did the right thing.
Each of my kids shed some tears, too. At different times, of course. One day math was the culprit. Another day there was a meltdown before soccer practice, because homework wasn't done yet and there wouldn't be much time after practice to get it all done. And yet another day, the waterworks started before anyone was even dressed.
Needless to say, the adjustment period has been more than just a bit difficult.
But, it's been good, too. Really good.
I managed to get over the mommy guilt after that first week and began to trust that God had His Hand in all this. I stopped stressing over not being in complete control of my kids every second of every day. And, I finally gave my children to the Lord. I mean, fully and completely.
Ethan and Zach come home eager to share what they've learned. Julia is loving the interaction she has with other girls, and she adores her teacher. And, Josh… well, I think he's still trying to figure it all out and find his place. But, I have no doubt he soon will.
And? We've all survived.
No. No, I think we're all stronger.