One can simply not resist these yummy and delicious Oreo Truffles that my kids and I make.  They are such a big hit at Christmas that we also make them for a scrumptious Valentine's Day treat, as well!
The kids have a blast rolling the mixture into balls, coating them in the chocolate, then, of course, licking their fingers!
If you like Oreo cookies, you will LOVE these rich truffles!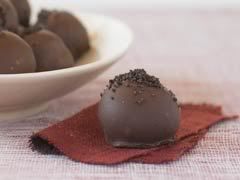 OREO TRUFFLES
1 pkg. (1 lb., 2 oz.) OREO Chocolate Sandwich Cookies, divided
1 pkg. (8 oz.) PHILADELPHIA Cream Cheese, softened
2 pkg. (8 oz. each) BAKER'S Semi-Sweet Baking Chocolate, melted
CRUSH 9 of the cookies to fine crumbs in food processor; reserve for later use. (Cookies can also be finely crushed in a resealable plastic bag using a rolling pin.) Crush remaining 36 cookies to fine crumbs; place in medium bowl. Add cream cheese; mix until well blended. Roll cookie mixture into 42 balls, about 1-inch in diameter.
COVER balls in chocolate – I place each ball on a fork, over the bowl of melted chocolate, and then spoon the melted chocolate over it until coated; place on wax paper-covered baking sheet. (Any leftover chocolate can be stored at room temperature for another use.)
SPRINKLE with reserved cookie crumbs.
REFRIGERATE until firm, about 1 hour. Store leftover truffles, covered, in refrigerator.
ENJOY!