These past several days have been rough… My headaches are back in full force, Timmy has bronchitis, and Ben has a stomach bug and was awake and vomiting violently for several hours last night. Miraculously I was blessed with a bit of quiet time this afternoon and, while I have laundry to fold and dishes to wash, I felt the sudden urge to bake. Baking is therapeutic for me, in a way, I suppose.
Oatmeal Cranberry White Chocolate Chunk Cookies are some of my all-time favorite, both to bake and nosh, so naturally a batch of these tasty treats was just what I needed. I am now sitting with a few cookies, along with a cup of hot Tension Tamer tea, relishing the little break in the midst of the crazy.
How do YOU retreat from the crazy?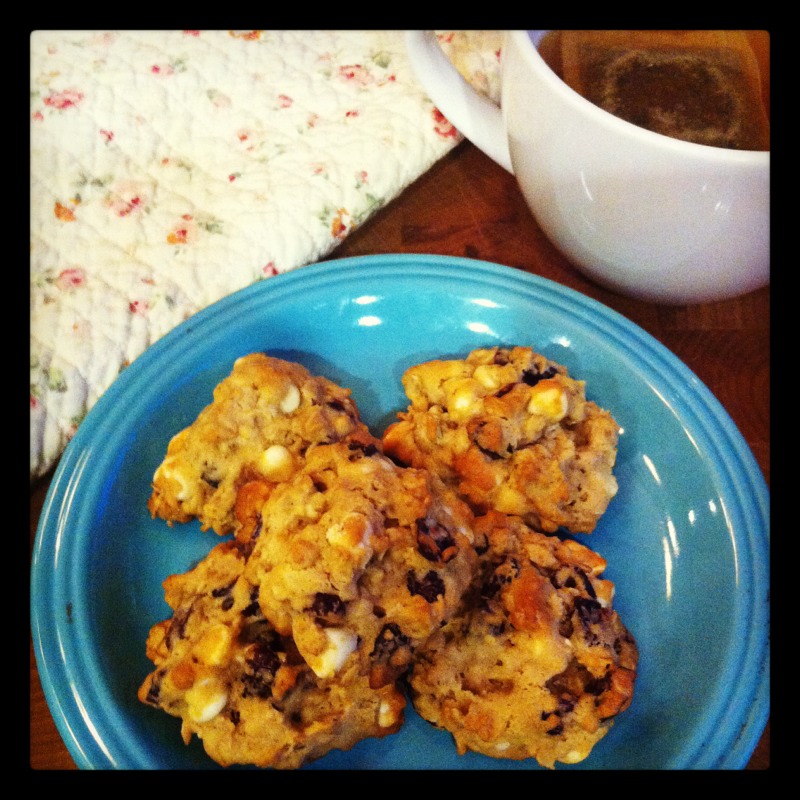 OATMEAL CRANBERRY WHITE CHOCOLATE CHUNK COOKIES
Ingredients:
2/3 cup butter, softened
2/3 cup brown sugar
2 large eggs
1 1/2 cups old-fashioned oats
1 1/2 cups flour
1 teaspoon baking soda
1/2 teaspoon salt
1 1/2 cups sweetened dried cranberries
1 cup white chocolate chunks or chips
Directions:
Preheat oven to 375ºF.
Using an electric mixer, beat butter and sugar together in a medium mixing bowl until light and fluffy. Add eggs, mixing well. Combine oats, flour, baking soda and salt in a separate mixing bowl. Add to butter mixture in several additions, mixing well after each addition. Stir in sweetened dried cranberries and white chocolate chunks.
Drop by rounded teaspoonfuls onto ungreased cookie sheets. Bake for 10-12 minutes or until golden brown. Cool on wire rack.
Makes approximately 2 1/2 dozen cookies