On Friday, while I was over 2,000 miles away for Blissdom*, I received a call that would make any mom that far away from her babies wish she wasn't – Ray was at Urgent Care with Noah.
My parents had called Ray to tell him that Noah was possibly having an allergic reaction – he had a rash and his hands and feet were swelling. I knew it had to be serious for my Dad to have called Ray away from work in the middle of the afternoon. He wouldn't have been alarmed by just a little rash.
There was, in fact, a patchy red rash all over Noah's body, but his hands and feet were swollen and appeared bruised. Definite cause for concern. Of course Ray thought it wise to take Noah in, but they were sent home, after seeing the doctor, with instructions for Noah to be given Benadryl every few hours, and the promise that the spots would clear up in a couple of days.
They didn't.
I returned home late yesterday afternoon to hugs and squeals of joy. From everyone except Noah. Noah's cheeks were swollen, the red spots had become larger patches and now covered his whole face and his legs, and were spreading to his back and neck. His ankles, feet, legs and hands were turning a smooth shade of purple. He was miserable and cried when I touched him.
I just had to take him back to Urgent Care.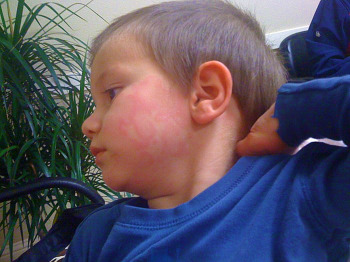 We left the emergency office in less than an hour. I was told what to watch for to indicate an immediate need for a trip to the ER, and the order to take Noah to see his pediatrician early this morning and insist on blood tests.
Blood tests?
Noah fell asleep on the way home and Ray put him straight to bed. I started Googling, but stopped when my fears got the best of me.
I tried to eat, but felt sick.
I tried to sleep, but couldn't.
I sat and prayed over my sleeping baby.
YOU prayed for Noah and you prayed for me. I felt peace.
This morning Noah woke up a bear. He was definitely not himself, but just wanted me to hold and snuggle him. A good sign! In fact, his face was no longer swollen and even his feet and ankles were beginning to look more normal.
Off we went to the pediatrician's office. Noah was semi-cooperative with Dr. Skiles, but did amazingly well as his blood was drawn for the CBC and ANA… not one peep from him!
As this afternoon passed us by, and we waited for the test results, Noah's red and purple skin began to turn back to a healthy pink, he became less sensitive to the touch, and even stopped pulling and scratching at his inflamed skin. In fact, even his 'tude came back!
Noah was already better.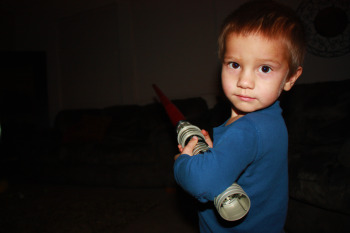 Just a bit ago, I received a very welcome phone call – Noah's CBC came back completely normal. Noah does have Urticaria Multiforme (a sort of extreme hives, most likely caused by a virus) and we now wait for the ANA results, but with much more hope. God is gracious and my baby is better! Praise God for answered prayers!
Thank you for your prayers!
*More on Blissdom later!