Some people think we're depriving our children of "the magic of Christmas."
Some people think we're crazy for not encouraging our children to believe in miracles.
But, what can be more "magical" than an immaculate conception and a Savior born for us? Sounds like a miracle to me!
Okay, so my kids know about St. Nicholas. They know that he was a man who obeyed Jesus' words to "sell what you own and give the money to the poor." They know that St. Nicholas used his whole inheritance to assist the needy, the sick, and the suffering. They know that he dedicated his life to serving God and became known throughout the land for his generosity to the those in need. They know of his love for children.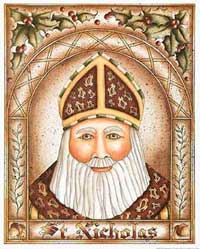 They also know that St. Nicholas is not the reason we celebrate Christmas.
For our family, Christmas is a time for us to celebrate the birth of our Savior, and it's on this day that we gather together and rejoice in the blessing of His salvation and mercy.
Yes, we give each other gifts. Just as Christ was given for us. But, we elevate and worship Jesus Christ, our Savior, on Christmas Day. Not Santa Claus.



For unto us is born this day in the City of David,
a Savior, which is Christ the Lord!
Luke 2:11
Of course, this is simply our view on Santa Claus and how we celebrate Christmas, but what about your family? Do you incorporate Santa Claus into your festivities? Why or why not?