All of my babies are sound asleep. I really should be sleeping, too. After all, my best piece of advice for new moms is to sleep when Baby does.
In all honesty, I was about to call it a night when I realized that it had been five (maybe four – I'm too tired to check) days since I published a blog post. There is a plethora of things that I could write about, but I truly don't feel like I can compose a coherent thought right now.
Heck, I'm not sure if I have any coherent thoughts up in my brain. My brain is functioning at just enough capacity to keep my body goin'.
No, I'm not sick. Physically or otherwise. At least, I don't think I am. I'm simply tired.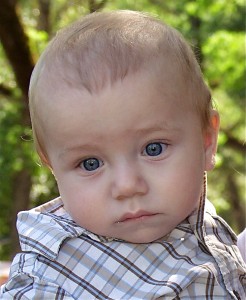 Contrary to what you may think, I am not tired because I have seven kids. Honest. I am tired – exhausted, really – because I have one seven-month-old. A seven-month-old who did not sleep last night.
Actually, maybe Timothy did sleep. I can't be sure. What I can be sure of is the fact that I did not.
My precious baby boy was attached to one of my breasts all night. He would not let me go. I would roll over and he would roll with me. Every time I tried to move him from our bed to his he would screech.
Yeah, he screeched. Much like the monster people in I Am Legend. A blood-curdling, kill-me-now screech.
So, before my baby realizes that he is alone in his own crib, not attached to my breast, I better get myself to bed. I may actually be able to lay my head on my pillow for a few minutes before I am awakened by my little screecher.
We'll be back to our regularly scheduled programming after I've had some sleep. Hopefully long before Timothy's 1st birthday.
Talk back!
Tell me about your baby's worst night sleep. How did you cope? Did you spend all of the next day walking around like a zombie? Or, did you handle it better than I?