Last month, while we were at Walmart HQ, my fellow Walmart Moms and I had a bit of fun with Nintendo. Not only did we get to play with the 3DS, DSXL, Wii U, and Wii Fit U, but we also got to experience all of the fun that the 2DS holds before it was even available to purchase.
What did I think of the 2DS?
The 2DS has a more affordable price point, and certainly is easier for little ones to play on (without the danger of 3D for developing eyes and brains). With WiFi functionality, and the ability to play all of Nintendo's DS games, it would make a great gift for the newest little gamer-in-training. My littlest guy loves it, mostly because playing on his very own DS!
Where can I find the best price on the Nintendo 2DS?
Walmart.com has the best price around. Purchase the Nintendo 2DS Holiday Bundle for only $119. The bundle comes with your choice of game or accessory,  saving you $40!!
After returning home from our Walmart Holiday trip, I received an email from my PR friend from Nintendo. She offered to send me a 2DS to try, but I asked to try out the Wii U at home instead. I did have a chance to watch it in action in Bentonville, but figured an honest assessment would be better done after my kiddos had a chance to play with it!
A few short weeks later, I received the Wii U. To my surprise, a Wii Fit U was in the package, as well!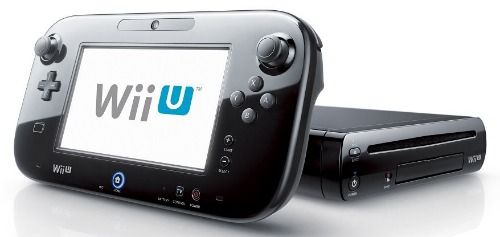 What do we think of the Wii U?
My younger kids are huge fans of Nintendo Wii games, so we already had quite the collection. All Wii games are compatable with the new Wii U, making the transition for us pretty easy. The best part about the Wii U is the GamePad, especially for the kiddos. They most appreciate the fact that when it's someone else's turn to watch TV, they can continue their game on the GamePad. We're also building our game collection by downloading the new games, instead of having to mess with discs that eventually get scratched or broken.
How about Wii Fit U?
I am horrible of carving out time to excercise. With the Wii Fit U, I can use the GamePad, Balance Board, and the Fit Meter and have access to over 70 activities. Yoga and Strength Excercises on the Balance Board are my favorite way to keep in shape at home, but I love that I can keep track of my activity while out and about, as well, using the Fit Meter. Joining A Gym Community is next on my to do list!
Where can I find the best price on the Wii U?
Of course you knew I was going to say Walmart! Right now on Walmart.com you can find a Wii U Deluxe Console Set, that comes with New Super Mario Bros. U and New Super Luigi U, for only $299.96!
And remember, with Walmart's Christmas Ad Match guarantee, if you DO purchase your Nintendo gifts at Walmart and then happen to find a better deal elsewhere, be sure to bring in the printed ad and Walmart will refund the difference!
So, there you have it — We're still huge fans of Nintendo game systems! Stay tuned for our review on a couple of the newest games we've played.
As a participant in the Walmart Moms Program, I've received compensation for my time and efforts in creating this post. All thoughts and opinions are my own.