Words can not express how much I have enjoyed soaking up every single moment with my precious baby these past 11 days. Even though Timothy is Baby #7 I feel like I am able to really enjoy having a newborn for the first time.
I know that may sound weird, but I was overwhelmed with the twins and then each baby came so soon after the one (or two) before that I never really took much time to just enjoy these first few weeks after the birth of a new baby.
Sure, I lack sleep and I'm just as busy as ever – I have six other children who need me, of course – but I am taking the time to just enjoy Timothy in this newborn stage. Snuggling with him as he slumbers, nursing him when he's hungry (and even when he's not), and gazing in to his sleepy eyes in rare moments of consciousness bring me such joy.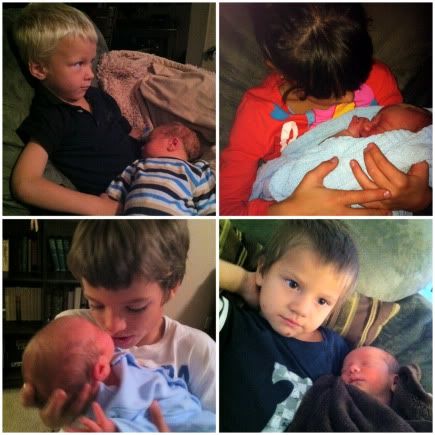 My older kiddos are enjoying cuddling with Timothy, too. Julia is such a big help and even Zach has that special touch when Timmy gets fussy. Noah and Ben want to hold him every chance they can, and they get so worried when he seems upset. To be honest, I'm having a hard time sharing Tiny Tim!
This time goes by so fast. I can look at each of my "big" kids to be reminded of just how quickly.