It's not surprising that my tastes and likings changed so very much over the years. Doesn't everyone's? Sure, my wedding ring held sentimental value, but the idea of a wrap around a solitaire, set in yellow gold, didn't quite fit my style after ten years.
Ray agreed that a new wedding set would be the perfect gift for our tenth wedding anniversary. For months we searched for the perfect set – a vintage look and feel, set in white gold. I found exactly what I had been looking for on a chance trip to the mall one afternoon, just a few short months after we celebrated our anniversary. It was all that I had imagined AND it was a good price – just within our budget!
The set was a bit big for my finger, but we didn't bother sizing or soldering it, simply because I became pregnant with Timmy shortly after and knew my finger would swell to the perfect size.
And, it did. But, I am a procrastinator and I waited way too long to get it done. Perhaps if I had already had it soldered I wouldn't have lost the band, thanks to Timmy. Who knows? Maybe I would have lost both at the same time.
Shortly after my band went missing, the middle diamond clean popped off of the engagement ring! We were at dinner when I slammed my arm down on the table. I noticed only moments later that the diamond was gone. Our entire party searched and searched until my sister found the solitary diamond in a groove in the floor next to our table. I was certainly grateful to have the diamond in my possesion again, but I didn't imagine I would have the ring repaired anytime soon, so I was clearly upset.
It wasn't necessarily the ring set that I was mourning, but the idea of not having anything on my finger to symbolize my union with Ray. My finger felt naked. It WAS naked.
We had been on the lookout for a replacement set (since, even if I were to repair the piece I have, it would be incomplete), and I knew I wanted it to be similar to the anniversary set Ray purchased for me, with a vintage look and one minor change – I wanted the center diamond to be princess cut.
I managed to find a beautiful Cubic Zirconium set in Sterling Silver (from Walmart!) that will most certainly fill the void. It is elegant and was affordable, which was exactly what I was hoping for, especially since I run the risk of one of my littles running off with a piece, or two!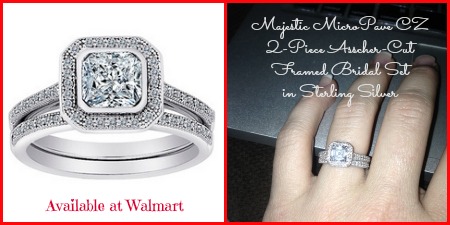 As a participant in the Walmart Moms Program, I've received product and compensation for my time and efforts in creating this post. All thoughts and opinions are my own.