I love Summertime. These hot days mean beach towels and flip-flops, sunshine and bronzed skin. Lounging by the pool and picnics at the beach are how I dream of spending the warm afternoons.
When I'm not packing for a big move, that is.
Anyway, there a few items that have become some of my must-haves for this season.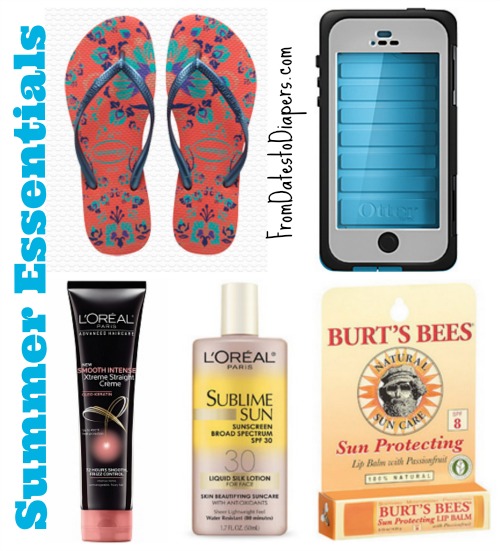 I'm a California girl, so flip-flops are a must for me. In fact, I wear flip-flops most days, hot or cold. My new Havaianas SLIM PARADISOs (in Salmon) are my latest favorites. I can wear them with anything – pants, shorts, and skirts. Love them.
My iPhone 5 is very well protected with the Otterbox Armor case. Not only is it sandproof, but it is also waterproof and shockproof. This case is a bit bulkier than I'd like for it to be, but I know my phone is well protected while we're trying to stay cool.
I don't go anywhere without covering my face in Loreal's Sublime Sun Advanced Sunscreen Liquid Silk Lotion for Face. This light lotion gives UVA/UVB Protection with an SPF of 30. It's also water resistant and never becomes shiny or greasy. This lotion is perfect for a makeup base on hot and sunshiny days.
Humid summer days are the worst for my frizzy, curly hair. Loreal's Advanced Haircare Smooth Intense Xtreme Straight Crème is perfect for up to 72 hours of smooth frizz control.
Burt's Bees Sun Protecting SPF 8 Lip Balm with Passion Fruit is the only balm I put on my lips when I'm out in the sun (unless I brush on a light lipgloss). I get nasty cold sores from overexposure, so protecting my lips from the sun is uber important.
What items are on your summer essentials list?
Disclosure: All items listed above, with the exception of the lip balm, were some of those given to me on my #JerseyLove trip last month. All opinions are mine – they really have become my favorites!