A guest post by Ethan Young
When my mom told me that I would possibly be getting Invisalign to correct my crowded teeth, I was a bit worried. I was afraid it would hurt, kids at school would make fun of me, the aligners would be irritating when I eat and frustrating to clean. But, I was mostly wrong.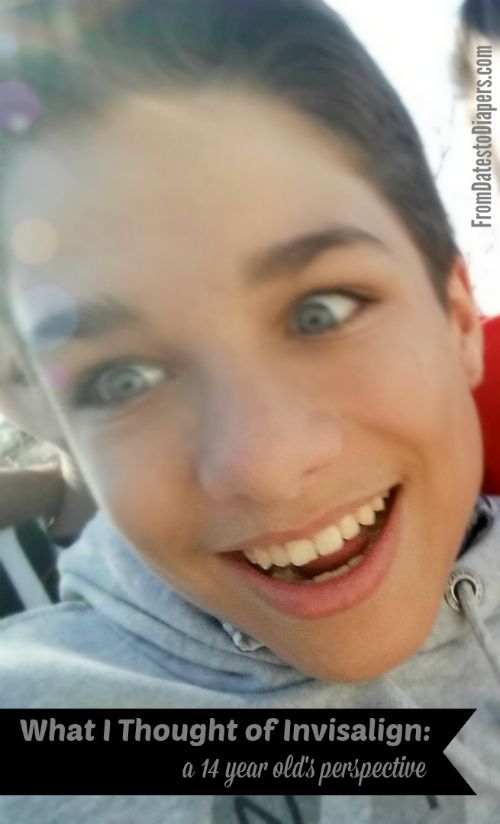 Did they hurt? Yes! The new aligners hurt like crazy for the first few days while they moved my teeth. But, after a few days, they didn't hurt so bad and I kind of got used to them. Then it was time for new ones! LOL
Did kids make fun of me? No. They were actually curious about the aligners and wanted to see them when I took them out to eat lunch. They said they couldn't really tell when I was wearing them.
Were the aligners irritating when I ate? I did have to take them out whenever I ate and that was sort of annoying, but it wasn't bad. I was glad to be able to eat and drink whatever I wanted, unlike friends with braces who couldn't eat certain things.
Were they frustrating to clean? No, I just brushed them like I did my teeth, and soaked them in hydrogen peroxide every couple of nights.
Now, that my teeth are straight, I have retainers that look like my aligners did. I don't have to wear them all the time any more – just at night. I am so glad my Mom was able to get me Invisalign!
I'm a member of the Teen Invisalign Mom Advisory Board, and both Ethan and Zach have received complimentary treatment.