I am loving the bright colors that are available in fashion and apparel at Walmart this Fall! Of course, you can still find all of the goodies that make dressing for this season so great – boots, scarves, oversized sweaters, and all – but adding bright splashes of color to my outfit is easy to do with the fun items I'm seeing. And, it's just so fun!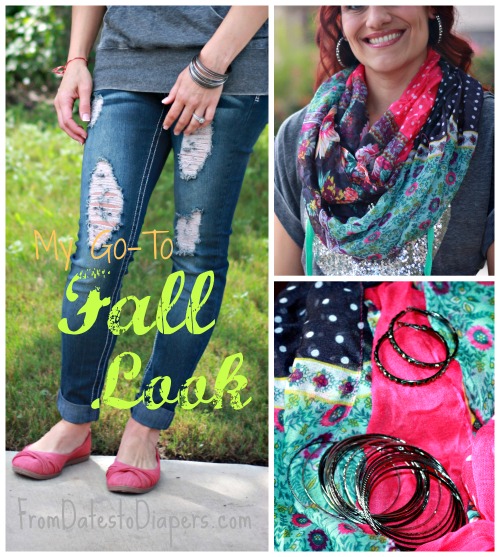 I pretty much live in denim, and with my new fitness regimen, I am noticing that my bum and thighs are bigger (which is certainly not a bad thing), so my pants are fitting different… It was time to update my wardrobe and Walmart was the perfect place to shop for jeans. I was excited to find these super comfy No Boundaries distressed skinny jeans for only $19.88. My younger boys just don't understand why I bought my pants with holes in them, but I love the look! There was also a pair of boot cut jeans in store for the same price that I just had to have. They fit so nicely.
Being that Texas stays pretty warm, even through the Fall, this hooded tab sleeve pullover I found in the Junior section is perfect for the season. (Walmart also has a pink one with a silver and black heart, as well as a cream one with a skull.) The colorful infinity scarf ($4.97 for two!) I paired with this outfit matches perfectly with the turquoise pull strings and does a great job of making my pink flats (only $5 in store!) pop.
My new favorite outfit for Fall is complete with some bangles, hoop earrings, and a sparkly headband – all found at Walmart. I am extremely excited to share that my complete outfit (shown here) was purchased for less than $50!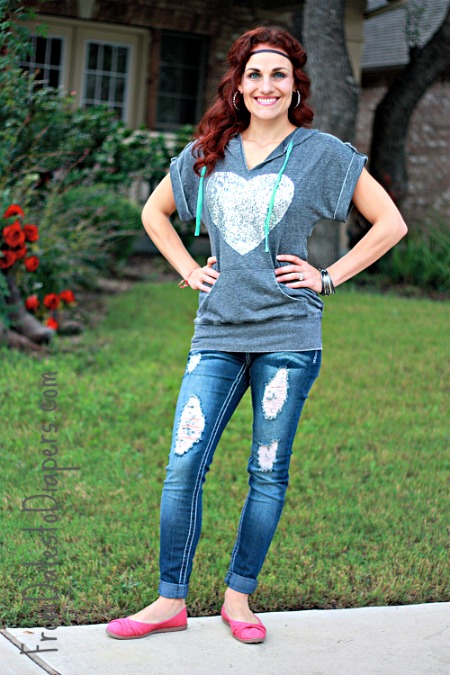 As a participant in the Walmart Moms Program, I've received compensation for my time and efforts in creating this post. All thoughts and opinions are my own.