I want to tell you all about Garth Brooks' newest boxed set, Blame It All On My Roots, due to release tomorrow, but will you bare with me as I gush about my afternoon with him first?
When I started blogging, what seems like ages ago, I had not a clue that so many great opportunities would arise. Due to long hours behind the keyboard, our family sure has seen more than our share of stuff, allowing us to be a blessing to others. The experiences my work on this little ol' blog has provided have far surpassed any thing and have been a great blessing to our whole family.
Take meeting Garth Brooks, for instance. I'm not usually one to get all giddy about meeting celebrities. Perhaps because I see them as people, just like us, but with more visibility and money! But, when I got the email inviting me to interview Garth Brooks?! I mean, it's Garth Brooks! He's a music genius. An icon in the world of musicians. I just may have squealed…
My adventure began on a short flight from Austin to Nashville, where I met up with some of my dear friends (and fellow Walmart Moms) – Lori, Tara, and Monica – and our partner in crime, Mille. All of us are huge country music fans and just adore Garth Brooks. We chatted about how unbelievable it was that we would get such a private interview with Garth Brooks (it was just going to be us, and not a swarming media crowd), what we were going to ask him, and which items we brought to beg him to autograph. We giggled like teenage girls.
On the day of our interview, we all hopped out of bed early and explored Music City. We walked through the Country Music Hall of Fame and down Music Row, all of us a bundle of nerves in anticipation of our afternoon with Garth.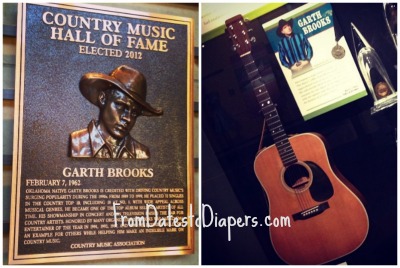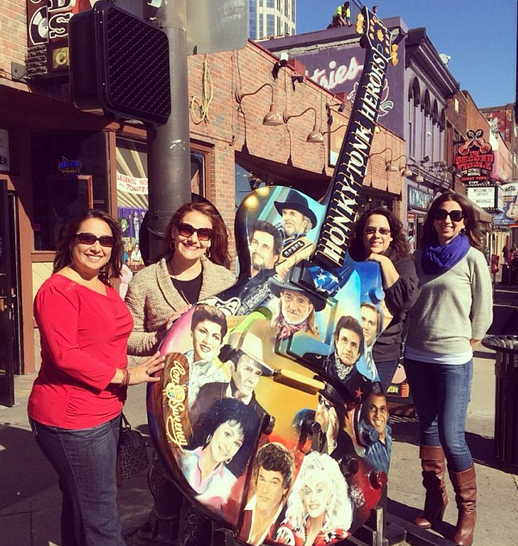 I heard a few squees as we pulled up to Garth's private studio, we were greeted with hugs from his manager, and ushered into the "sitting room" by the fire. After we had a chance to settle in, we were treated to a beautifully scrumptious down-home country lunch, complete with tasty fried chicken and the best green beans around. As we were munching on our lunch, Garth walked in and took us all by surprise. We had all interviewed celebrities before, and I guess none of us expected him to show up as we were eating! He even snapped a photo of all of us at lunch. It was his idea, btw.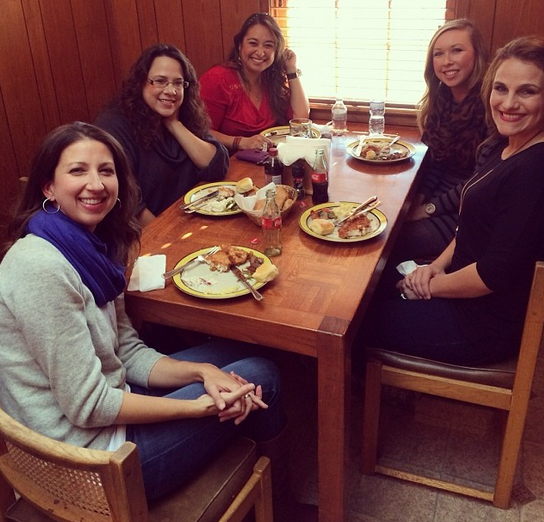 Garth wanted to know all about each of us – about our families and our work, and he asked tons of questions about social media. Can you believe he's not on Twitter or Instagram or Facebook?! Crazy, right?
The rest of the afternoon was just amazing. We never actually interviewed Garth. Instead, we sat around joking and chatting about life, ours and his. He was genuinely interested in us, and that made us feel like old friends; family even. He showed us the beautiful booklet included in each boxed set, and pointed out photos from his childhood. We listened to some of the music from his new albums –  track after track – as he told us about the original artist, why he chose to cover their song, and what each song means to him. He danced with Lori, recorded a message for Monica's girls, and wanted us all to take a selfie with him.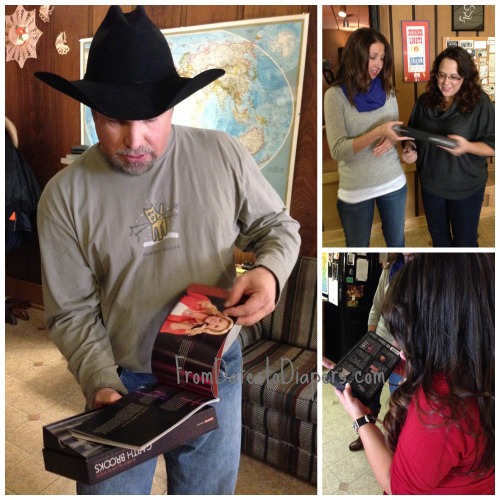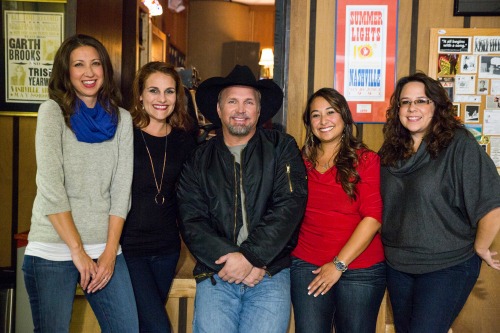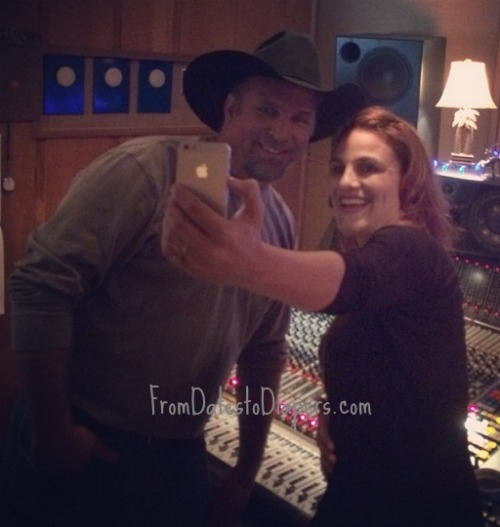 But, as the proud mama I am, the highlight of the afternoon for me was when Garth asked to listen to Julia sing. I so wish I had thought to record him with my mini iPad pressed up to his ear – with eyes closed, body swaying, his reaction floored me. I mean, I knew Julia was good, but to hear GARTH BROOKS say that she sounded fantastic… Wow!!
That was certainly a day I will never forget. And, neither will Julia.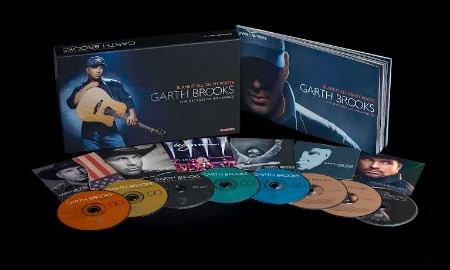 Now, about Garth Brooks' new boxed set —
Included in the boxed set, Blame It All On My Roots, are 8 discs (6 CDs & 2 DVDs) with over seven hours of entertainment, including 77 songs, 33 music videos, and a 68-page photo booklet! Four NEW studio albums, inspired by Garth's live Las Vegas show, take you on a musical journey of how Garth Brooks got his sound, as he performs songs from his greatest musical influences spanning "Classic Country," "Classic Rock," "Blue-Eyed Soul" and the "Melting Pot" (one CD for each genre). The boxed set also includes a two hour DVD of Garth's acclaimed one-man show recorded live at The Wynn Resort in Las Vegas. This limited edition, exclusive boxed set also includes two CDs containing 33 songs from The Ultimate Hits (plus a bonus track) and a DVD with music videos for each of these hit songs.
And, it's ONLY AVAILABLE AT WALMART (in store only) TOMORROW, beginning at 6pm local time, while supplies last!
I can assure you, as a country music and Garth Brooks fan, you will love his "new" music. Heck, anyone who enjoys a wide variety of music genre, will LOVE this music!
Disclosure: My afternoon with Garth was sponsored by Walmart. Of course, all thoughts and opinions expressed are my own. While Ray claims he liked Garth Brooks first, I've always been a fan!