One of the best parts about this time of year for me is all of the goodies that we get to enjoy. Gingerbread lattes, warm cookies, sweet and salty bites of goodness, and baskets full of yummy treats.
Usually the kiddos and I are the ones baking, assembling and delivering said baskets full of homemade confections, but this year we were the lucky recipient of a Mrs. Prindable's basket and got to see and taste for ourselves how incredibly delectable these tasty treats are.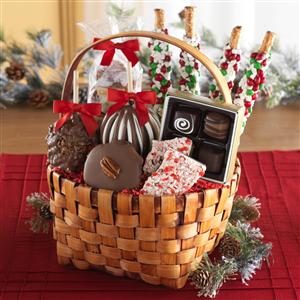 The bag of Classic Vanilla Caramels was empty before I could catch my twins, and as soon as I cut in to the first apple we were all hooked. The layers of caramel, nuts and chocolate coating just barely stole our attention from the fragrant tart apple. Between me and the kids, that apple lasted a mere 45 seconds. No joke.
I wanted to find out a bit more about Mrs. Prindable's products and I sat with my jaw dropped – drooling, no doubt – as I watched their apple coating process. The time and attention that goes into each Mrs. Prindable's creation is truly awe-inspiring, perhaps because I know from experience how much work it is to just dip an apple in caramel and make it look good…
Thanks to Mrs. Prindable's, my kids will be gifting their teachers with a very special apple for Christmas. Your's can, too, with delivery before Christmas for as little as $12.95 (more for Premium delivery).
Mrs. Prindable's sent us the Premium Holiday Basket (pictured above) in exchange for this review. All opinions and thoughts are my own, as always.