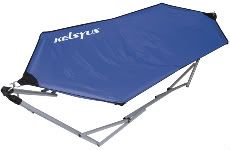 I was very excited to try out a portable hammock from Kelsyus… I figured it would be a relaxing gift for any Dad, but I wanted to give it a go and see how it really stacked up before I recommended it as a great gift idea.

I was pleasantly surprised to find that the Deluxe Hammock was very easy to set up, once I knew what I was doing, and super comfy! I have to say that it's a bit heavy, but does fold up nicely, making it a fun item to take on any camping trip or day at the beach.
Who said you need two trees and a hammock to relax? The Kelsyus® Portable Hammock™ defies all hammock odds and requires only a flat surface to assemble. This patented, lightweight hammock sets up in seconds with no tools required so you can spend more time relaxing and less time setting up. And when relaxation time is over, the Portable Hammock folds into a compact outdoor canvas bag with shoulder strap for hands-free portability. Its steel frame construction makes for a durable hammock that supports up to 250 lbs. Available in blue and red.
~~~~~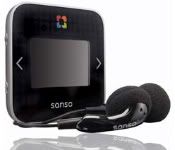 The SanDisk slotRadio player is a great gift for any music-loving Dad on your list. Perfect for the less computer savvy Dad's out there, this gift will allow him to enjoy the ease of an MP3 player without ever having to download songs or use a computer!

The SanDisk slotRadio player bundle includes everything Dad needs for hours of musical enjoyment. He can even catch local weather, sports and more with the built-in FM tuner!
The Sansa slotRadio player is a small, stylish, portable music device that comes bundled with a slotRadio card preloaded with 1,000 songs handpicked from the Billboard® charts, and professionally arranged into a variety of genre-themed playlists.
~~~~~
Created by the inventor of the Sonicare toothbrush, the Graphite Gray Clarisonic uses sonic technology and works with the skin's natural elasticity to unclog pores for deeper cleansing without stripping the skin. Using the Clarisonic prior to shaving will open pores and give your Dad (or kiddos' Daddy) the closest shave of his life.

**Enter to win a Graphite Gray Clarisonic Kit!**

The Clarisonic skin care kit includes the Brush Handle, Charging Cradle, Brush Head and Brush Head Cover, in addition to Nourishing Care Cleanser, Gentle Hydro Cleanser and Refreshing Gel Cleanser.
Clarisonic Skin Care recognizes that men are just as discerning about their grooming products as women are. The launch of their men's Graphite Gray Clarisonic for Father's Day in 2008 was so successful that they made it a permanent part of the line. Tinseltown A-listers like Ben Stiller, Dustin Hoffman and Justin Timberlake have also made Clarisonic part of their grooming routine.