All first-time moms put together a wish list, or at the very least a list of the items they think they will need when their precious little one arrives. But, think about it – how many of those items did you really use?
Twelve years ago, when I was baking my twin baby boys, there were not nearly as many "must-have" items as there are now. As a mom of seven, I saw the lists of needed baby items grow exponentially year after year.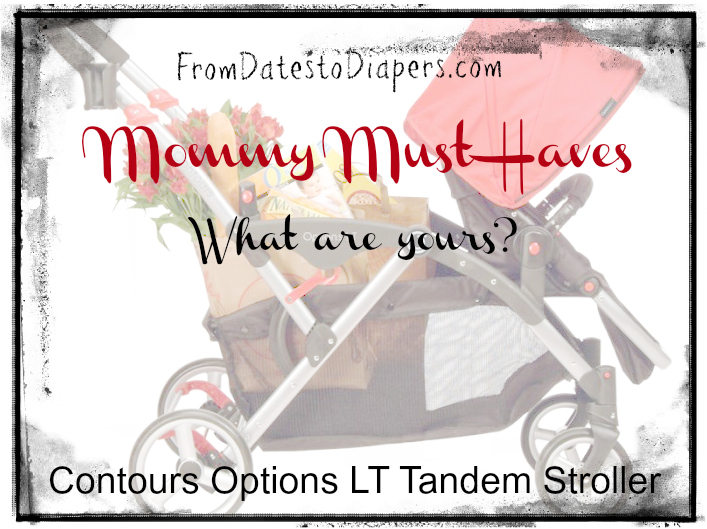 There are baby wipe warmers and airtight diaper pails, baby food makers, activity gyms, white noise machines, and changing tables. But, back then, I used warm wash cloths, took the stinky diaper out to the garbage can in the garage, pureed steamed veggies in the blender, played with my baby boys on a blanket on the floor, turned on the fan at naptime, and changed diapers on the couch and bed.
There are, aside from the absolute bare essentials, a few things that I made sure I had when Timmy came along, just as I did when Ethan and Zach arrived almost nine years before — a bassinet (and later a pack'n'play), and a good sturdy stroller.
The bassinet sat in our living room and was a comfy place for the twins to sleep, right where we were. And, I had a big, bulky double stroller that I fought to fit in my trunk every.single.time we went anywhere. What I needed to do to fold that booger up… Oy! What I would have given for a Contours Options LT Tandem Stroller back when my twins were babies!
This fab stroller won the 2012 National Parenting Publications Award, joining an elite list of outstanding "must-have" products for parents!  Check it out —
What is on YOUR must-have list, and why? I'd love to know!
Just a note —
Contours was one of my Blogher sponsors last month. They made it possible for me to attend one of the biggest blogging conferences this year, all the way across the country. Thanks to Contours, Blogher attendees were given the chance to win one of five prizes from me – Bassinet (2 prizes), a Contours stroller, a $50 Amex GC, or a $100 Amex GC – and another ten from my fellow Contours Bloggers – Sarah and Jennifer. If I saw you at Blogher and handed you a Contours branded USB, make sure you check it for a special prize code. So far, only one of the five prizes have been claimed!