This week we are visiting with Jodi, a Christian mother of two boys, ages 19 and 12, and a hard-working day care provider. She has been married to her sweetheart of 17 years for 11 years. Jodi stays connected with the virtual world through her three blogs and the Michigan Moms Club, which she co-owns.

Join me for a chat with Jodi…
Me: As a mama of two older boys, can you give this mama of mostly boys any words of advice?
Jodi: Choose your battles wisely, and enjoy your time with them while they are little, time goes by all too quickly.
Did you always want to be a mommy?
Yes. I love kids, and always wanted 2, would have loved to have a boy and a girl (my thinking back then), but I love my boys and wouldn't trade them for anything.

What is one thing you know now, after having your children, that you wish you knew when your first was born?
That its ok to make mistakes, everything doesn't always have to be perfect.

What great advice!
Now, what is the one household chore that you dread doing?
I hate cleaning the bathroom. With a house full of guys, it isn't a pretty site. If only I could get them to see what I see, then maybe it would be a little nicer….. er, maybe not LOL
Oh boy, can I relate!
If you could go back to any time in history, to which time period would you go, and why?
I would love to go back to the pioneer days. Even tho it was a lot of work on all, it just seemed like a simpler life.
If you could choose only two books to read what would they be, and why?
The Bible, because it would encourage me daily; and then probably a book on the Amish, as I love to read and re-read about them.
I would love to lift you up in prayer this week, Jodi. How can we pray for you?
That there be restoration in my family.
I have enjoyed getting to know you a bit, Jodi! May the Lord bless you this week as you serve Him!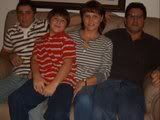 Do you have any encouraging words, tips or ideas for Jodi? Has she touched you in some way today or through one of her blogs? Would you please share? Kindly leave a quick hello for her, or any words of encouragement that may help her on her journey as a wife and mother!

*****
Do you know an incredible mom who deserves the spotlight? Or, perhaps would you like some encouragement yourself? If you answered yes to either of those questions, please
email me with your nominee
, at
fromdatestodiapers@yahoo.com
with
Mom of the Week
as the subject. Check out
this post
to see how you can help spread the word about this new weekly column.