I'll fully admit that I am a procrastinator. So, the fact that I was making some festive patriotic decorations the day before the 4th of July should not be surprising. Honestly, I wish I had made these little gems much earlier, so I could display them longer.
Oh, who am I kidding? I live in America and I'm proud of my country – I can keep them up all year!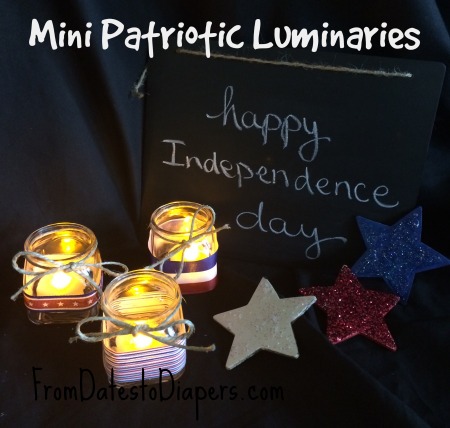 These pretty little Patriotic Luminaries are incredibly easy to make, and they didn't take much time. I gathered some ribbon (red, white, and blue, of course), mini jars, tacky glue, and a few battery-operated votives (to place inside the jars), from my local Walmart. I had some paint pens on hand, just in case, but we didn't end up using them.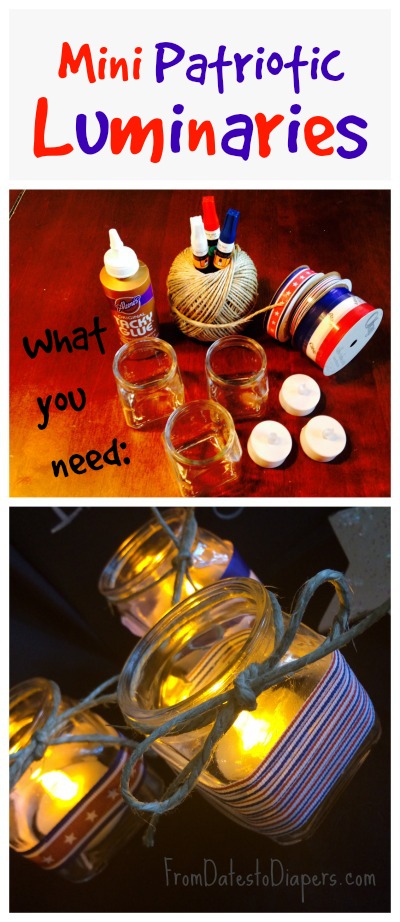 Julia and I got to work on our mini luminaries. Here's what we did —
1. We each chose our ribbon and used tacky glue to attach it around our jar.
2. Next, we added some raffia to the top and tied it in a bow. 
3. The votives fit perfectly inside the jars, so we placed one inside after turning it on.
4. Voilà! Pretty little Patriotic Luminaries!
What are you doing tonight to prepare for the celebration of our nation's independence?
Check out what some of my fellow Walmart Moms made to celebrate —