We all know and love Han Solo, Princess Leia, Luke Skywalker, Obi-Wan Kenobi, R2-D2, Jabba the Hutt, Chewbacca, Darth Vader (in a love/hate sorta way, right?) and the unforgettable Yoda, among many others. Well, in celebration of the highly anticipated new Star Wars release this December, Walmart is stocked with all the cool new Star Wars toys and merchandise featuring our favorite characters. And some new ones!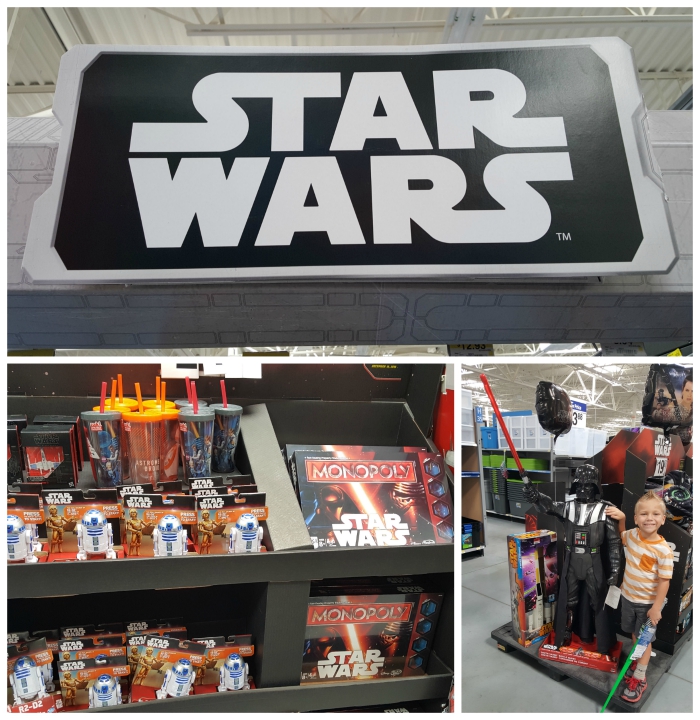 There are some crazy cool new toys and I was so excited to get a sneak peak last month in Dallas. My favorites are Legendary Jedi Master Yoda and the Remote Control Ultimate Millennium Falcon Quad.
Jedi Master Yoda will train you to be a become a Jedi!
Small in size but wise and powerful, Yoda has trained Jedi like Luke Skywalker for over 800 years. Now it's your turn as Legendary Yoda guides you on the path to becoming a Jedi Master. Standing an impressive 16 inches tall, Yoda's dynamic motorized body movement and full voice recognition make him the most realistic Star Wars toy ever. He speaks 115 phrases that will lead you to Jedi wisdom and lightsaber mastery. And with dynamic 360-degree movement, Yoda comes to life with never-before-seen lightsaber action!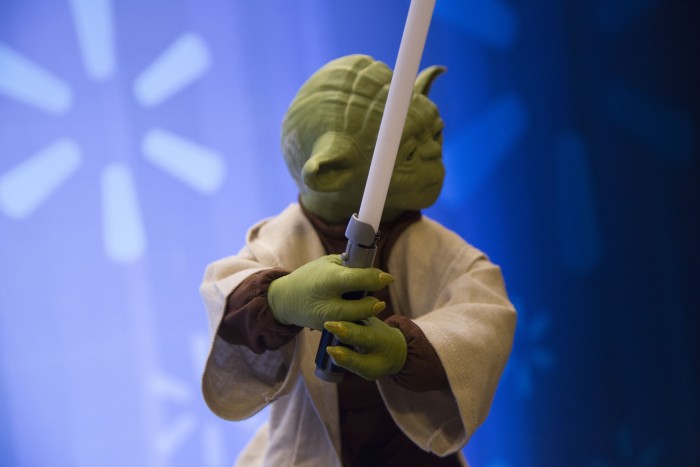 Make the Kessel Run in less than 12 parsecs with the Flying Star Wars Ultimate Millennium Falcon!
Fly the most iconic ship in the Star Wars universe right in your own home! The Ultimate Millennium Falcon takes flight with the power of 4 rotors concealed in the body of the ship. Its authentic lights and sounds bring the Millennium Falcon to life as you fly. Activate Hyperspace mode on the remote control and hold on for a fully loaded hyperspace journey. If your deflector shields go down, you're still in good shape; the Millennium Falcon is constructed from durable high density foam making it resilient to a few photon torpedo hits. With 2.4GHz communication, you can control the Millennium Falcon up to 200 feet away! Join the rebellion and bring Star Wars home with the Millennium Falcon Quad from Air Hogs! Star Wars products are produced by Spin Master under license from Lucasfilm Ltd.
While those are super cool and will certainly be on the top of your kids wish lists this Holiday season, I am picking up a Chewbacca Pillowbuddy for myself! (He's only $15.96!!) Isn't he cute???
As a participant in the Walmart Moms Program, I've received compensation for my time and efforts in creating this post. All thoughts and opinions are my own.