With this being my sixth pregnancy, I am sad to say that only once have I had professional photos taken of my baby belly. I was pregnant with Julia and I remember it being very cold outside. Getting the perfect shot was a bit uncomfortable, but we got it!
I would very much like to have photos taken this time around, too. What better way to immortalize this special time in such a wonderful way, right?
Well, I caught up with Sacramento photographer, Jill Carmel, and we chatted about this beautiful art. She gave me some fabulous tips and now I'm excited!
When is the best time for maternity photography?
Generally the best time for photography is around 7 1/2 to 8 1/2 months through your pregnancy, but you would want to do it sooner rather than later if you have a petite frame. If you plan to have professional photos taken, make sure to book your session at least a few weeks in advance.
Where is a good place to take the pictures?
Natural light is my favorite kind of light for photographing people. Go outside under a tree, stand just inside a doorway or sit inside by a window. Natural light has a lovely way of wrapping around the curves of your body.
What should I wear?
The best clothes to wear are ones that hug the lines of your body. A stretchy dress or yoga pants matched with a tight-fitting tank top always work well. I also love summer dresses that draw in just above the belly.
What kind of camera should I use?
It's better to take some pictures than none at all, so use whatever you've got. If you happen to have an SLR (the larger cameras with interchangeable lenses), that's best. For any kind of camera, step back and use your zoom lens — it helps to minimize distortion.
What should I do if I want to have professional photographs done?
Being pregnant is such a magical and fleeting time in one's life. It's really something special to have professional pictures taken that show you and your beautiful body in the best possible way. Another factor to consider is that all of the members of your family can participate. Dad can put down the camera and join in for these.
When looking for the right photographer, try Google (you can type in something like "Sacramento maternity photographer") or look up someone a friend referred. Go to their website and look closely at their portfolio. If you don't absolutely LOVE the majority of that photographer's work, move on to the next site. Find someone you really connect with. When you do, it's worth the money.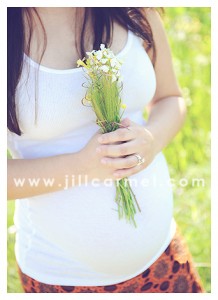 If you are looking for a maternity photographer in the Sacramento area, you have to contact Jill – www.jillcarmel.com. Oh, but she doesn't just photograph pregnant moms, she also takes the most breath-taking photos of newborns, as well. You must check out her work!