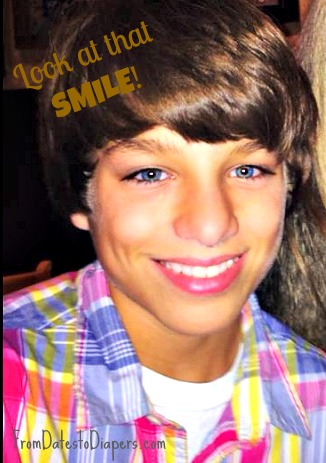 Ethan and Zach officially began their Invisalign treatment last April when they had their very first scans done. We were told they would need to wear the aligners for 18 months, and we were all anxious to see the results. Little did we know how quickly we would see a difference.
Not only did we see straighter teeth pretty quickly, but my boys started smiling again. I mean big beautiful toothy grins. Nothing makes this mama's heart happier than seeing my babies happiness written all over their faces!!
The change I've seen in Ethan and Zach's confidence levels have been enough for me to want to shout from the rooftops how amazing Invisalign is. During this whole process they have smiled more, laughed louder, and are generally less likely to keep their joy hidden behind an awkward close-mouthed grin.
And, now it looks like their time with Invisalign aligners is about over. At this last appointment, Ethan was placed on the fast track, so to speak. His ortho advised him to change out his aligners every week, instead of every two weeks. He's stoked, and I'm curious about the next steps for him.
Zach, on the other hand, has a permanent molar popping through and needed to have another scan done, so the following trays could help make room for the new tooth. We should know soon how many trays he has left. We're anxiously waiting.
I'm a member of the Teen Invisalign Mom Advisory Board, and both Ethan and Zach are receiving complimentary treatment.