Not too long ago, Ray, in an effort to help, decided to cover up the dirty walls going up our stairwell with a darker shade of paint than the original paint color. Not quite sure how that helped, but it made for a good blog post, at the very least, I figured.
So, I have a post sitting in my drafts folder with the following picture ::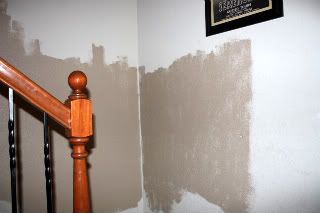 But, I never got around to writing about the incident. I think it's because, no matter how hard I tried, I couldn't really find the humor in it.

Until about two weeks ago, when I received the following email ::
I'm reaching out to you on behalf of Lisa LaPorta, HGTV designer and host of "Designed to Sell" & "Bang for Your Buck".

Lisa has picked her 5 favorite bloggers in the California area looking to do consultations with and she's a huge fan of you! If you're open to it, Lisa would like to spend a few hours with you and give you a design consultation in your own home as well as provide products on behalf of KILZ paints and primers.
Oh. my. goodness.
Naturally, I responded with ::
Lisa didn't happen to see my draft article, highlighting my stairwell walls half-painted, somehow, did she? 😉 LOL

It would be an honor to have her come and consult this design-ignorant mama… I (and my house) could use some serious help!
Squeeee!!!
Today was the day that Lisa was to come, and I was running around trying to make the downstairs of my house at least somewhat presentable. I had no intention of allowing Lisa upstairs. None. No way.
After talking her way through my living room and front room, Lisa expressed how much she really wanted to see my master bedroom. It must have been because I opened my big mouth and told her how much I would love to create a sanctuary in my room, being that Ray and I will be celebrating our tenth anniversary next month, and we've never really had a nice oasis in which to spend time. (Yes, I think I actually said all that in one breath. Whew.)
Up we went past unfolded laundry, tiptoeing through all of my stuff from Chicago strewn about all over my bedroom. And, even though I was so very embarrassed, I am so glad we did! Lisa was so excited to help me make over my master suite and started throwing ideas at me from all different directions. She is truly amazing and so much fun!

So, we went shopping. We picked up everything, including several gallons of KILZ paint and primer, to transform my messy, cluttered, and unfinished room into a master bedroom to die for! All on a very limited budget.
I can't wait to show you my completed room, but I still have a ton of work to do!
Stay tuned…