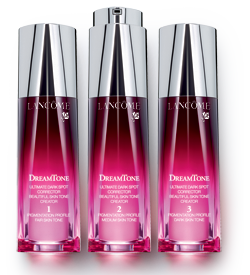 I am a sucker for beauty products. Show me any new face cream or serum, especially one that boasts skin tone correction, and I'll try it! Lancôme DreamTone is just one product that I had the opportunity to try through SheSpeaks. This serum was specially formulated to reduce the appearance of dark spots, uneven skin tone and color imperfections.
The new DreamTone comes in 3 barely-tinted serums formulated to visibly give you a more even-looking skin tone. You'll want to find the serum that is customized for your skin tone: 1- Fair, 2 – Medium, 3 – Dark. I tried the #2.
Now, I have had dark spots above my lips, and a couple of areas on my face where I had to apply a bit more powder than others. After using the DreamTone, every day for the last 4 weeks or so, I am pretty amazed at the difference. (Not that I didn't think it would work, but I'm always a bit skeptical, ya know?)
Ready for my #BareSelfie? (Ignore the circles under my eyes… I'm a tired mama!)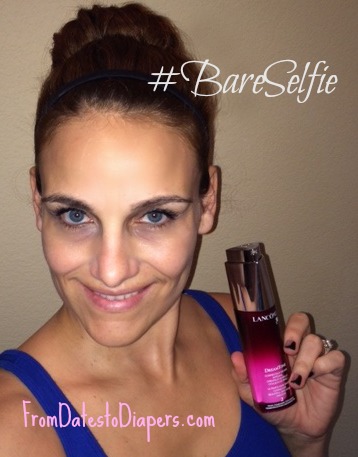 In an 8-week global self-assessment study, women of multiple ethnicities used Lancôme DreamTone. Here are the results::
• 74% saw glowing skin IMMEDIATELY
• 70% noticed a more even skin tone after 7 DAYS
• 69% saw the appearance of dark spots reduced after 4 WEEKS
• 78% saw color imperfections reduced after 8 WEEKS
Pretty amazing, if you ask me!
Disclosure: I received a sample from SheSpeaks to create this review. No other compensation was given. Thoughts and opinions are my own.