It's been two months since I presented you with my Kraft 1/3 Less Challenge. That's a whole month later than I had anticipated to choose the winner of the challenge. Life sorta threw us some curve balls…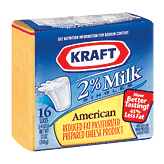 Anyway, if you remember, I challenged you all to make better-for-you decisions – 30 days of 1/3 less. There were many of you who gave up something not-so-good for you, for a day or two. Some of you took my advice and switched from other brands of American cheese to Kraft 2% Singles for 1/3 less fat*, or added a few minutes of exercise to your day. I decided to consume 1/3 less sugar and tried to limit my kids to 1/3 less TV. I think we all did okay.
Are you ready to hear who won the SpaFinder gift card? Janet F was the ultimate winner of the challenge, although I commend all of you for making better-for-you decisions! She made a new commitment almost every day, during the 30 days. She used 1/3 less milk in her tea, exercised more, drank orange juice (instead of soda), and more.
What better-for-you decision can you make today?
*Kraft 2% Milk Singles have 2.5g of fat per slice compared to 4.5g in the leading process cheese slice.
Kraft Foods is providing the prizes for this program at no cost to me and has compensated me to host this giveaway.  This program is not administered or sponsored by Kraft Foods or its affiliates, but solely by From Dates to Diapers.