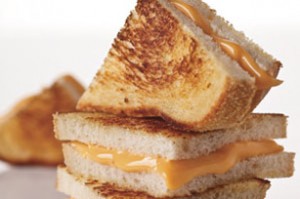 I recently mentioned how much we love cheese. Well, as you might know, Kraft Singles 2% have 1/3 less fat* than other American cheese. I think this is fantastic, simply because I think that Kraft Singles make some of the best grilled cheese sandwiches. And there is nothing quite like the yummy goodness of a grilled cheese sandwich for lunch, or even a late night snack… Mmmm!
But, you know what? It's always good to make better-for-you decisions, no matter what time of day. Choosing Kraft Singles over other American cheese is just smart when you are trying to cut your fat intake, don't ya think?
I'd like to challenge you to make better-for-you decisions, such as switching from other brands of American cheese to 2% Singles for 1/3 less fat*, or adding 10 minutes of exercise to your day. What are some other ways you can make healthy choices? I'd love to hear your ideas. For some of you it may be to consume 1/3 less sugar, or perhaps to watch 1/3 less TV.
Now, listen carefully because your participation could win you a fabulous prize…
I'm going to give you one month. That's right – 30 days of 1/3 less. Each day of the next 30 that you decide to make a better-for-you decision and choose to accept my challenge, you can tell me about it by leaving me a comment that day. Each comment earns one entry in the random drawing for a $100 SpaFinder gift card. View complete challenge guidelines here.
Come on, I dare ya!

*Kraft 2% Milk Singles have 2.5g of fat per slice compared to 4.5g in the leading process cheese slice.
Kraft Foods is providing the prizes for this program at no cost to me and has compensated me to host this giveaway.  This program is not administered or sponsored by Kraft Foods or its affiliates, but solely by From Dates to Diapers.