With so many kiddos, it's important for us to find lots of variations in the activities we plan wherever we go on vacation. I think I found the ultimate family vacation destination in Kissimmee, with so much to do it's mind boggling. Let me tell you why I would love to take my family to the heart of Florida…
Since Ray is such the history buff, I know we would love the museums, historic downtown areas, or even the little eclectic shops and boutiques. From water parks and miniature golf to airboat or zipline rides, we could certainly find a way to have fun as a family. In fact, many of the things to do in Kissimmee are FREE! That's right… museums, fishing, exploring, hiking, or just plain sauntering through the historic streets. Sounds fun to me!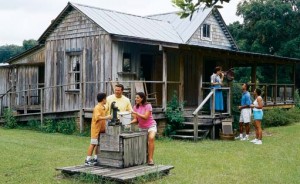 But, maybe your idea of the perfect afternoon is just a quiet picnic at the park (ha! like that would happen for us… hehe)… You'll find plenty of places for the perfect picnic in Kissimmee! Or perhaps your family loves to explore the great outdoors… Well, you will definitely want to check out the wilderness preserves or go horseback riding, or fishing. Whatever you like to do on vacation, I'm told you will find it all in Kissimmee.
Now that I got you all excited about planning a family vacation to Kissimmee, how about an opportunity to win the ultimate vacation to this fab place? Kissimmee is giving away three (3) weekend getaways (3 days/2 nights) for two (2); and two (2) week long vacations for four (4). Drawings will be held on or around 5/1/09 and 6/1/09, so head over and enter. Just beware – I'm entering! I'm hoping we may be going on another family vacation a whole sooner than we thought!