I don't know about you, but we have been constantly on the go this summer. We've been on road trips, had park days, spent afternoons swimming at the lake, and hours visiting with friends and family. It's hard to keep my kiddos hydrated with so much fun activity, especially in this heat.
Having lots of water and juice at the ready is so important. I've always given my toddlers their own special "sippy cup" that they could carry around the house and never leave home without. Having these cups full of yummy liquid so readily available for them insures they are getting the proper amount of fluid AND gives me peace of mind knowing I won't happen upon little spills in the house or in the car.
Now, thanks to Contigo, even my older kiddos have special no-spill "sippy cups" that they carry around with them. Their reusable water bottles of choice are the Contigo AUTOSEAL Kids Trekker Mugs. Not only are they affordable, they help cut the cost of plastic cups and bottles while we're out and about. Each Contigo mug has AUTOSEAL no-spill technology, meaning the lid seals between sips with an easy press-to-sip/release-to-seal button making it 100% spill and leak-proof!
While the Kids Trekker Mug is slightly difficult for Timmy to maneuver, it really is a perfect water bottle for the older kids at home or on the go. And, because I'm not too old for spills, I have my very own travel mug from Contigo, too!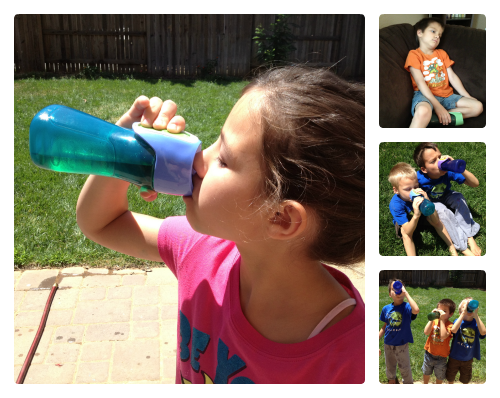 Win it!
My friends at Contigo have offered to give away 25 Kids Trekker Mugs here at From Dates to Diapers! That's a whole lot of avoided spills!
To enter, simply share a story in the comment section of this post with a memory of your worst spill or a time when your kiddo may have caused a scene with a big (or little) spill of his own. For additional entries, leave separate comments when you "like" Contigo on Facebook and/or follow @GoContigo on Twitter.
Winners will be chosen after 9pm on Sunday, August 5th, and notified by email.
Buy it!
If you simply can not wait and would like to purchase your kiddos a mug of their very own, visit GoContigo.com and use the discount code SUMMER 2012 to receive 20% off the Contigo AUTOSEAL Kids Trekker Mug. It's a perfect additional to school lunches!
I received product for the purpose of this review and have been compensated to host this giveaway.