Keeping the floors clean with kiddos in the house is not easy. There always seems to be a mess, especially with so much wood…
The Swiffer Sweep & Trap has become one of my newest must-have tools. We use it every day. It has soft, rotating blades to pick up large pieces of food and trash that ends up on the floor, and has a Swiffer dry cloth to trap dirt, dust and hair that brooms can leave behind. This innovative combination cleans up big and small messes in a single swipe.
The blades and dirt collection bin on the Sweep & Trap are easily removed for cleaning and just as easy to reattach. No batteries or power are needed, so it's what I grab for easy cleanup. It's so easy, in fact, that Swiffer-ing our hard wood floors has become Timmy's job. But, only because he begs to "clean the floor" several times a day!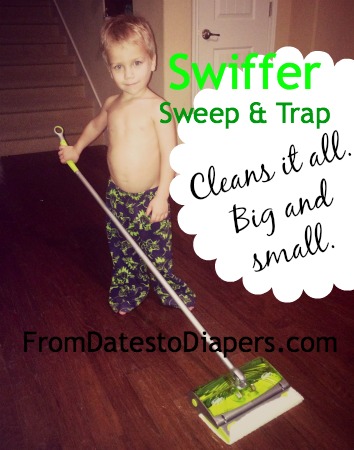 The Swiffer Sweep & Trap is available on Walmart.com and in stores for only $19.97.
As a participant in the Walmart Moms Program, I've received compensation for my time and efforts in creating this post. All thoughts and opinions are my own.