I've never really been a fan of football, but I've always enjoyed a good party. Well, Walmart is making it easy and affordable to host a BIG GAME party next weekend. In fact, they would like help you put together some really yummy goodies for your guests. Check it out… You can purchase all of the following items for as little as $44!
One package of Oscar Meyer meat hot dogs (8 ct.)
One package of Johnsonville bratwursts (6 ct.)
Two packages of Great Value hot dog buns
Two bags of T.G.I. Friday's frozen appetizers
One Hormel Supreme Party Tray
12" Chocolate Chunk Cookie
Two boxes of Nabisco Wheat Thins or Triscuit Crackers (8-10 oz. box)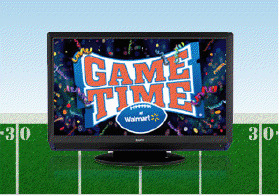 Visit Walmart's Game Time page for tons of great ideas on how to bring everything together for ultimate game time fun. You can even find some interactive games and party tips. You can even create your shopping list right there on the site!
Is YOUR team playing next Sunday? Who are YOU rooting for?
Let's get ready for some footbaaaaaaall!!
Walmart provided me with two $50 Walmart gift cards for my participation in this program.