Have you noticed that pork cuts have new names?
Well, a little over a month ago the National Pork Board decided that changing the names of the cuts to be more "steak-like" would make it easier for us to make the connection in the grocery store to grilling like a steak. For instance, a pork chop is now a pork porterhouse chop or pork ribeye chop. Smart, no?
I mean, when you think about it, you look at the name of a cut of beef and know exactly how to cook it, right? Well, now you can do that with a cut of pork!
Here is the perfect recipe to get you started by using the New York pork chops —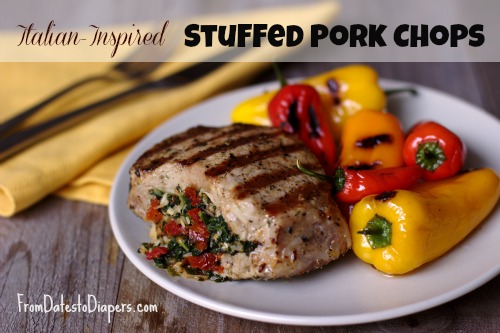 4 6-ounce New York pork chops, about 1 1/4-inch thick
8 ounces frozen chopped spinach, thawed
1/2 cup shredded parmesan cheese
1/4 cup oil-packed sundried tomatoes, julienned, drained and chopped
1 tablespoon chopped fresh oregano
6 cloves garlic, minced
Salt and pepper
Squeeze the liquid out of the spinach. In a medium bowl, combine spinach, cheese, tomatoes, oregano, garlic, and salt and pepper to taste. Cut a pocket into the side of each chop, making the opening as small as possible but the pocket as deep as possible. Spoon spinach mixture into chops, distributing it evenly within the pockets and securing the opening with a toothpick if necessary.
Prepare a grill to medium and lightly oil the grate. Season pork with salt and pepper and grill pork until internal temperature of the pork reaches 145 degrees F, 6 to 8 minutes per side. Remove chops from grill and let rest 3 minutes before serving.
Serving suggestions:
Adjust the stuffing to suit your tastes and what you have on hand—try different cheeses, like Asiago, pecorino, or Fontina, or different herbs, like basil, rosemary, or marjoram. It's also nice to add lemon zest.
Yield: 4 servings
Prep time: 30 minutes
Cook time: 25 minutes (includes time to preheat grill)
@AllAboutPork and @DealSeakingMom are hosting a Twitter Party this Thursday (tomorrow). The party will start at 2pm EST. I'll be on my way to Austin to find a house (YAY!), but I'll try my hardest to join y'all!

In addition to some chances to win some great prizes, we'll be chatting about how to save money, choosing the right pork cut, family friendly grilling dishes, and various helpful meal planning ideas.

Want to talk about Fourth of July entertaining and how to grill pork like a steak, among other fun things? Join us… We'll be using the hashtag #GrillPorkLikeASteak
This post, as well as all social media promotion, has been created for compensation. I am a Spokesperson for the National Pork Board, but all opinions are my own.