So, how did you do this last week? Were you able to be more intentional about fitting in a fun activity or creating a new craft with your kiddos each day?
This week we discovered some new games – Zingo and Super WHY! ABC Letter Game – and we played some of our old favorites, as well – Uno and Connect 4. We even made some sweet treats; the most favorite of which is the yummy and delicious Muddy Buddies. Josh also spent some time with Daddy digging up his dinosaur bones and piecing together a T-Rex!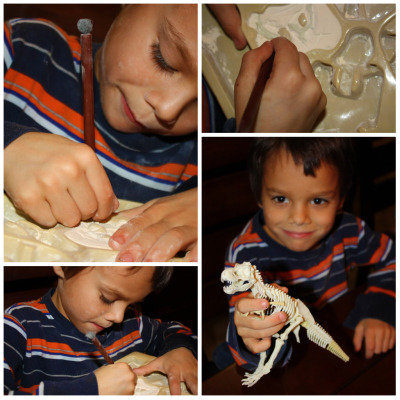 I didn't quite get in the special time with each of my kiddos every day this last week, as I had hoped, but we did create some great memories indoors. All while the weather was not so pleasant outside.
As you have already seen of my fabulous guests this last week, I have some pretty crafty friends, but in my efforts to find fun, unique crafts and activities for us to try, I have discovered some new lovely and creative blogs. (Thanks for your recommendations, Mindy!)
I hope you'll check 'em out, too!
Where do you get your inspiration?
Please share… I still need all the help I can get!
This post is sponsored by Campbell's Chicken Noodle Soup who wants you to know that 32 feet of fresh egg noodles go into every can. For lots of fresh ideas about how to keep your kids entertained and the chance to win $500, check out Wintery Weather Fun at DivineCaroline.