I haven't made much time for baking lately. Creating pies, fun cakes, cookies and other sweet deliciousness has taken a backseat to, well… just about everything else.
Well, some baking time was long overdue and I was ready to get my hands in some dough. I invited a few friends to join me in making two of my favorite cookies – Oatmeal Cranberry White Chocolate Chunk Cookies and Chocolate White Chip Cookies. I also wanted to put together some new little treats, so I rallied the troops – Ben and Noah – to help. In three easy steps we made these festive Rolo Turtles, inspired by Aunt Annie and helped along by Pinterest.
Step One – Lay out pretzels in a single layer on a baking sheet. We used square Snaps.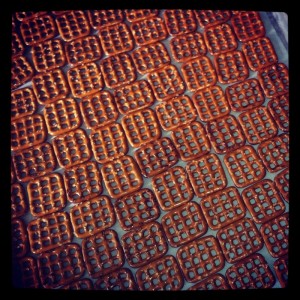 Step Two – Place an unwrapped Rolo in each pretzel middle and bake in a 250* oven for 3-5 minutes or until shiny.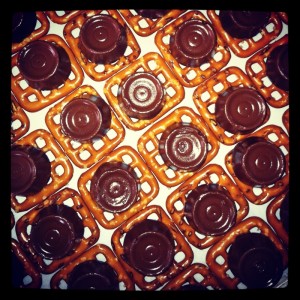 Step Three – Place a pecan half on top of each soft Rolo topped pretzel and press down gently. Ben didn't like the idea of a pecan being on his gooey chocolatey pretzel, so he placed a Peanut M&M on some.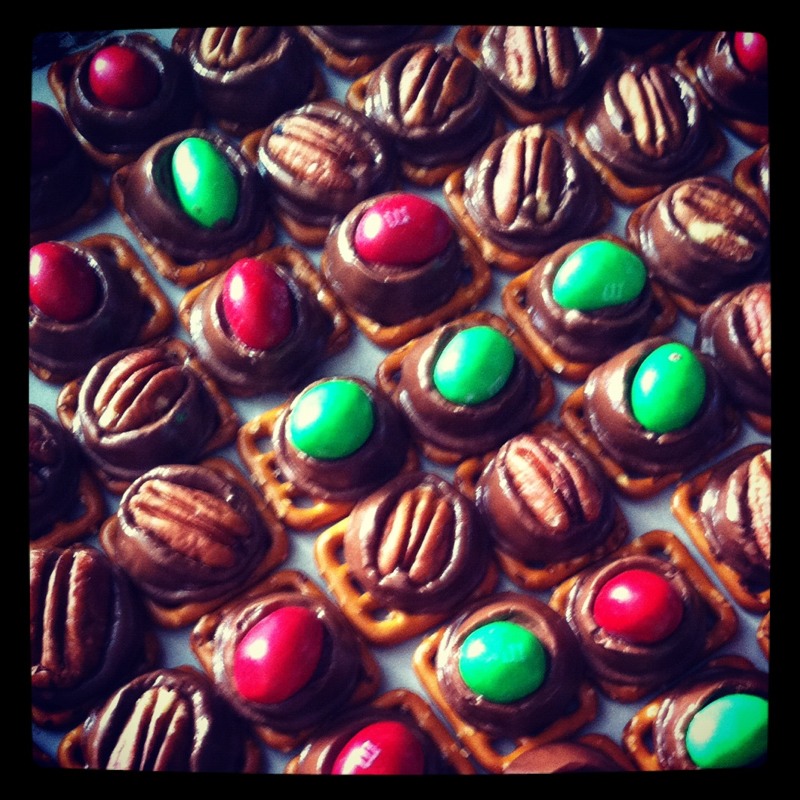 These little nuggets of yummy goodness were incredibly easy to make, the boys loved improvising with their favorite candy topping, and they'll make a fabulous gift for teachers and neighbors.
In spite of tired babies, using more vanilla than needed in the chocolate cookie dough and burning more cookies than we ate, we managed to package up some scrumptious goodies for some very lucky recipients. I'd say our baking day was quite a delicious success!