Brooke Burke was there.
Scary Spice Girl, Mel B, was there.
Maya, Cheryl, Anna, and Nikki were there.
I was there!


This exciting event was held last week at trendy Coco de Ville, in West Hollywood, and attended by some fab women bloggers, all in the name of friendship.


The room was abuzz with live tweeting and blogging as we sipped special cocktails, created especially for each of the guests of honor – Nikki, Anna, Cheryl and Maya, that is – and enjoyed yummy appetizers. We all thoroughly enjoyed the special viewing of the premiere episode of Only in a Woman's World – yes, the one that aired today, for all to see – and we even got to spend some time chatting with Brooke and Mel!

I would have to say, though, the highlight of the night for me was spending it with some of my bestest friends – Andrea, Lori, and Katja – and some new ones – Liz, Debba, and Kelly, Bryn, and Allie!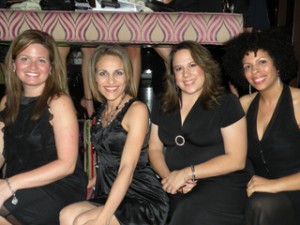 The Insider caught a glimpse of the party!
You can see me and my wild hair for just a split second, but I was there!

via The Insider
Watch for more on the details of my visit to the Frito-Lay plant, fun times with my girls, and my convo with Brooke Burke… coming soon!