TOYS AND GAMES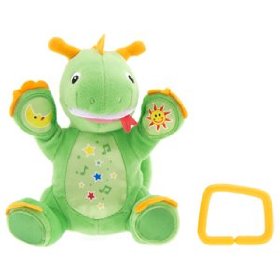 Baby Einstein Press and Play Pals are soft plush toys that are sure to be a favorite of baby's. Press their hands to hear messages in English, Spanish and French. A fun, yet educational, gift idea.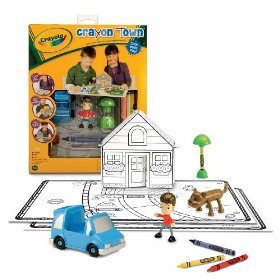 Most of you know of my obsession with Crayola crayons, so it's only natural that I would recommend a gift idea from Crayola, right? Well, Crayola Crayon Town combines the fun of art – drawing and coloring – with construction and imaginative play. Crayon Town is the only play set that blends the magic of coloring with real 3-D play! Children will have hours of fun coloring pop-up structures, that they assemble. They'll also have a blast building props and characters, and playing in the unique worlds they create.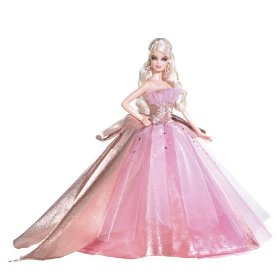 The Holiday Barbie would be a great gift for the doll-loving little girl on your gift list. Barbie has donned a spectacular pale pink and golden gown – a dress fit for a princess. She includes a matching 50th anniversary ornament with golden ribbon to celebrate her 50th anniversary!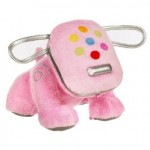 iDog Plush Puppy This cute plush puppy doubles as speakers! Just plug in your MP3 player and press play on the music player. Who knew a music speaker could so adorable? Julia is a big fan of plush animals, so she thoroughly enjoys holding this cute, cuddly creature as she listens to MY iPod. (Maybe I should spring for an iPod she can call her own. Or not!)

We were sent the Dino Rig from Sprig Toys to review over the summer. I never got a chance to talk about them, but that's certainly not because we didn't like them! Our Sprig Adventures Vehicle has been a great addition to our toy collection and has provided hours of fun, both indoors and outdoors… The kids pay with the jeep and dino in our backyard, at the park and on our kitchen floor. The best thing about Sprig Adventure toys is that they are made from recycled materials and there are no batteries needed!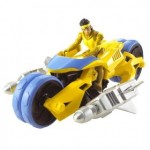 BattleForce 5 is an all new action adventure animated series, set in a fantasy world of crash and bash vehicular combat. What little boy wouldn't love playing out the Battle Force 5 adventure? Well, my boys do. In fact, they are all over anything that involves combat, especially if they are to defend earth! My kiddos have Vert and Saber and Josh (my 5-year-old) loves playing with this duo.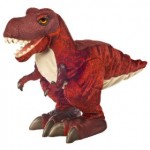 I bought the Triceratops Hatchling, from Playskool, for his Noah's birthday in August, and he is STILL carrying that soft and snuggly little prehistoric pet around with him! I am so excited to let Ben unleash Monty Rex from his box on Christmas morning… I know he will love it! This big guy responds to your touch with lifelike movements and sound, as does the little hatchling… If you touch his back he'll stomp, roar and purr, moving his arms and head — just like a real dino!

Whether you are looking for a gift for the older kids or one for the younger set, K'nex building sets may be just the thing. With five different age categories, you are sure to find something perfect for the imaginative creator. The Police Station Playset was a big hit with my 3-year-old, while the Bucket kept Ethan and Zach busy for hours.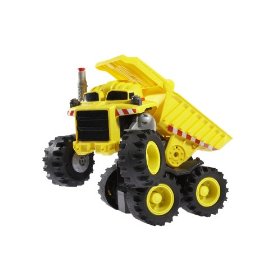 Rocky the Robot Truck, by Mattel, is an interactive dump truck that talks, drives, lifts, dumps and even dances! I think of my nephew every time I look at this great toy… I have to say that it certainly is perfect for the little tyke that loves all things that move and interact, especially of the truck variety — like 3-year-old Alex.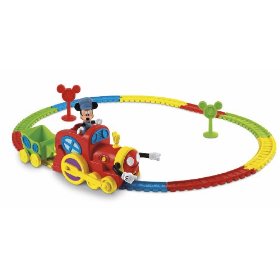 Mickey's Magical Choo Choo is a train set that I am dying to give Noah…You all know what a big fan of Mickey he is, right? Well, Fisher Price sent us this set to try out, but for now we'll just have to rely on this fab description: This clever little train knows which way to go as the engine picks up and lays down the track all by itself. The Mickey Mouse Clubhouse Choo Choo Express has lots of great features to keep young ones on track for smiles.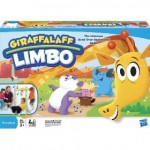 Hasbro games for the younger set are a great way to encourage spending fun time together as a family. Giraffalaff Limbo and Scatterpillar Scramble are both most appropriate for the under 6 set, but my older kids had fun playing with their younger siblings…. Giggles and laughter were heard throughout the house!
Be sure to check out which Nintendo DS and Wii games we play and love.
.
.
.
SPORTS & ACTION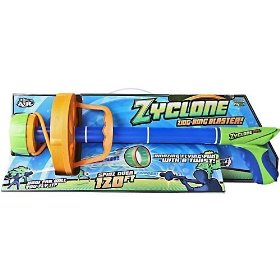 My kids love anything that they can throw, so when we were sent the Zyclone, I knew it would be a big hit. Fun for all of us, all we have to do is load the Zing-Ring onto the Zyclone, then simply pull back and twist, and send the Zing-Ring flying… even over our house!

Baseball Guys and Football Guys are perfect for the sports loving kiddos on your list. Each set comes with two teams and are great for encouraging critical thinking and strategy. From what I hear these sets are even used by coaches as a training tool. There are plenty of sets from which to choose, including (Soccer Girls! (My kiddos have even added them to their army men collection, at times, as they are about the same size.)

All of my boys are big fans of Nerf guns, including Ray! You give these guys each a gun and they are all boy! So, of course, when we were sent the Nerf Dart Tag FuryFire 2-Player Set to try out, I knew it would be a big hit. There is a green and an orange blaster, whch you start blasting as soon as you've put on your UVA and UVB ray-protecting VISION GEAR glasses and the goal is to hit the target zones on your opponent's vest and score points. Each blaster has an auto-advance barrel, meaning there's no pause in the game and no stopping the excitement, so you better be ready for non-stop action and fun.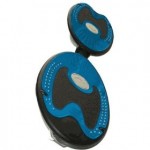 Okay, so we haven't actually let Ethan or Zach try the Shred Sled yet, but they have a Ripstik and this looks way more fun! The Shred Sled has four wheels, instead of two, and touts a smoother and faster ride. Perhaps because of it's flexible middle, it can make tighter turns, but we'll soon find out for sure, as this is one of their Christmas presents this year!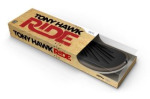 Another gift that will be wrapped and placed under the tree this year for the twins is the Tony Hawk RIDE Skateboard Bundle for the Wii. "The unique motion-sensitive board controller redefines the action-sports genre by translating your body motions into the game. No buttons, no thumbs, no analog sticks; just you on the board. For the first time in video game history, anyone can jump on a skateboard and feel the freedom, creativity, and accomplishment of skateboarding" — all in the comfort of your living room! I know the twins will love this, and to be honest, I'm a bit anxious to try it our, too!
.
.
.
WOODEN TOYS

Wooden toys are one of the best gifts you can possibly give to the little ones. They last forever, the kiddos will play with them for hours, and you can rest assured they are safe and well made. Rosie Hippo has a wide variety of such toys. They recently sent us the Wheeled Dinosaur Set and they have become favorites. This set has six creatures included and they're made of solid pine, so you can either paint them yourself or just leave them as beautiful child safe natural wood.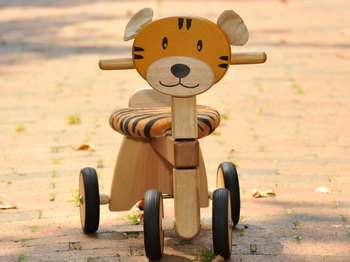 Rosie Hippo sent us the Ride-A-Tiger a while back and I gave it to Noah for his second birthday. This trike is not only sturdily built, but it is absolutely adorable and perfect for those yet too little to reach any pedals. I literally have to hide this little "bike" from the older kids sometimes because they all want to play on it!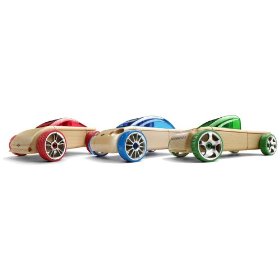 Automoblox are another wooden favorite. These wooden toys from Maukilo are a high-quality building system that will delight and inspire young and older children alike. Starting with a stylish wooden body, kids add wheels, windows, and unique customizing details. All cars can mix and match with others in the series to create unique rides. Hours of fun!
.
.
.
EDUCATIONAL, YET FUN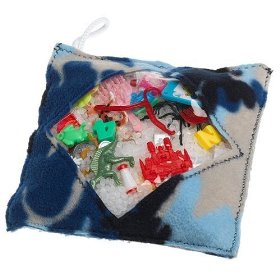 The I Spy Bag would make a great gift for the puzzle-lover. These colorful bags offer hours of creative, open-ended playtime for kids of all ages. You can search for the items on pre-made lists or you can make up your own games. What I like most about this great little bean bag-like puzzle, though, is that it is fully contained… No missing pieces, which means endless fun!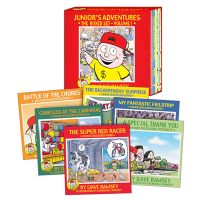 Junior's Adventures Books, by Dave Ramsey, are so much fun and all of my kids enjoy them, especially Josh. Just yesterday I found him all snuggled up on the couch, with one book in his hands and the rest of the set scattered around him… so cute! My older three have learned a few valuable lessons from Junior's Adventures; lessons they have actually begun to put in to practice. Lessons about saving money, giving to others, and budgeting – all on a level they understand fully.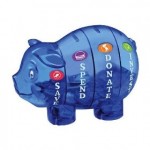 A Money Savvy Piggy Bank would be a wonderful accompaniment to the set of Dave Ramsey books for kids. This modern piggy bank has four chambers, one for each of the four money management choices — SAVE, SPEND, DONATE, and INVEST — all of which are incredibly important, and should most definitely be taught at an early age.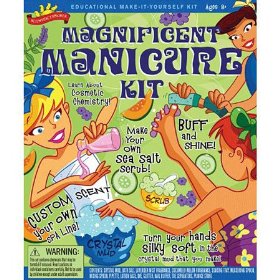 Julia and her Aunt Rachel spent an entire afternoon with the Magnificent Manicure Kit we were recently sent to try out. They learned all about cosmetic chemistry as they made crystal mud, soak their fingers in a sea salt scrub and gave each other magnificent manicures. They even made apple scented lotion. Lotion that Julia is so proud to massage into her hands and carry in her purse! A great gift idea for the young girl who loves to experiment AND make herself perrty!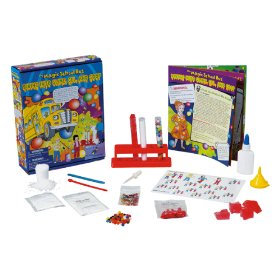 Now, this Magic School Bus Slime Kit was a huge hit with my twins! So far, they have discovered oobleck, created slime, expanded super-absorbent gel crystals, and even learned all about polymers. There is still so much more for them to discover, by producing glue from milk, growing jiggly marbles, making snow from super-absorbent crystals, then melting the fake snow, they even have yet to form a bouncy ball! This kit is packed with great experiments for the kiddos to explore, most of which can be done all on their own.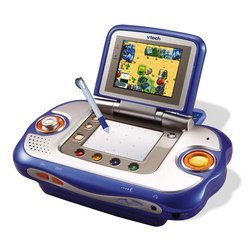 The new V.Smile Cyberpocket turns game time into brain time by combining a video game platform with educational content, all in a portable learning system. Think Nintendo DS meets Leapster. You can even connect it directly to your television for gaming at home. I love that the younger kids get the feel that they are playing "video games" all the while learning math and reading skills without even realizing it. This Cyberpocket would be perfect for the young gamer who may also be a reluctant learner.
.
.
.
DVDS & HOLIDAY MOVIES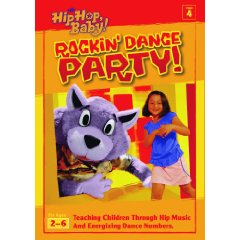 Rockin' Dance Party! is one of a series of DVDs in the Hip Hop Baby! series. This innovative series encourages learning and achieves key developmental milestones by utilizing the popular genre of hip hop music. Perfect for families who love music and love to move, these DVDs provide a learning experience while the kiddos are having fun through music and movement. Translation: the kiddos don't even realize how much they are learning!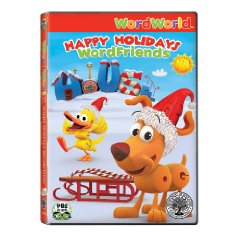 Word World Holiday DVD boasts two Christmas-themed episodes of this fun show – The Christmas Star and A Christmas Present for DOG. Of course all of our favorite Word World characters are there – DUCK, DOG, BEAR, PIG, FROG, and more – helping us get excited for Christmas morning! Word World is definitely on our list of fun and educational shows, so we will most likely be enjoying this DVD all year long.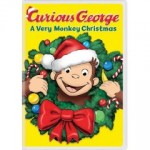 A Very Monkey Christmas is a tale about a monkey named George and The Man with The Yellow Hat and their countdown to Christmas. Neither of them can figure out what to give the other for a present, so follow their adventure as they try to solve this most disturbing puzzle. Will they be able to find the answers before Christmas morning? Well, I don't want to ruin it for you!