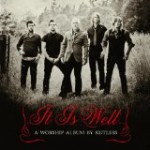 It Is Well, a worship album by Kutless, would be the perfect stocking stuffer for the hymn-humming, music-lover. Definitely a worship CD, this music is nothing short of beautiful as Kutless' rock flare seeps through these classic melodies. Powerful and a must-have for all the stockings you need to fill.

Add My Bible Cards to your kiddos' stockings and watch their faces light up as they open these beautiful cards. From the site :: "Taking the latest in computer digital graphics and a fresh narrative voice, My Bible Cards stands as an alternative to Pokemon and Yu-Gi-Oh. Creation By Design has devised a Bible Card trading series that can be used as a teaching tool to help children understand the Biblical narratives without forgoing their sense of the latest gaming trends."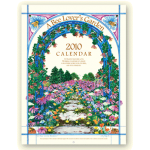 My mother-in-law is a big fan of calendars and must have one in each room of her home. When I saw the Bee Calendar I instantly knew that she would love to add this to a wall in her home. You may be interested to know that with every purchase from A Bee Lover's Garden you will help insure that critical research on Colony Collapse Disorder (aka the mysterious reason why bees are disappearing) continues.

Contigo mugs and tumblers would make a great stocking stuffer for each member of your family. With the Autoseal tumbler for the kiddos and the Stainless Steal mugs for the grown-ups, there is something for everyone. You can even fill them with items like comfy Karen Neuburger socks and other such goodies!

Surprise your kiddos with HexBugs, fun little robots that walk around and even sense their surroundings. It's quite a trip to see them "interact" with each other as these little bugs learn and react to the world around them. HexBugs are most suitable for kiddos ages 8 and up (although our little ones loved watching the bugs… we were just careful to keep an eye on our human ones!)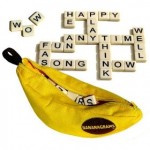 Bananagrams would make a fun stocking stuffer for all your readers. We were actually sent a set, but have yet to bust 'em out to play a round…. Perhaps we'll get a chance to play over the Holiday weekend and I'll let you know what we think. Product description :: "Bananagrams is a fast and fun word game that requires no pencil, paper or board. All you need is a table. One hand can be played in as little as five minutes. It is a great for family fun as well as being educational. Bananagrams portability makes it perfect for travel. Just grab the pouch and go."