Monday's outing started like any other Young outing: We were late.
This time it was legit; the rain was pouring and when that happens in Sacramento, most people forget how to drive. We actually made good time once I got behind the wheel. We agreed to drop Christine off at Will Call, to pick up our tickets and wait for the rest of us, but all the kids save two followed her. So Josh, Noah and I had to run to catch up.
Once inside, we tried to get to the pre-game player meet and greet, but the "competent" staff at Arco directed us downstairs where…it wasn't happening. We were lucky that a Maloof Entertainment gal turned out to be quite competent and figured out what was going on. She directed us to our seats and arranged for us to meet the team during half-time.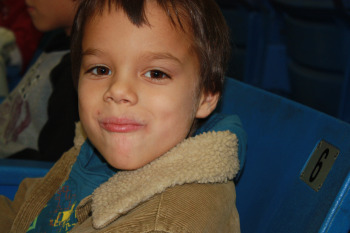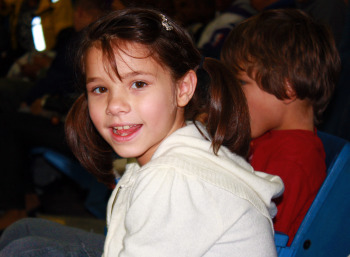 As we sat there waiting for the show to start, Ethan kept asking, "Dad, when will the game start?"
And I kept telling him, "It's more of a show than a game."
He was actually really upset that it was not a "real" game, but after a while he loosened up and started to enjoy himself.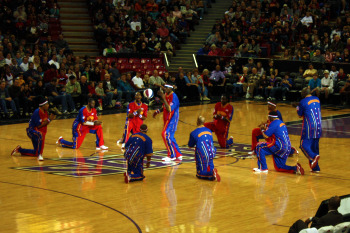 The 'Trotters were great: messing with the Ref and playing "football." The best, though, was the rewind. That's when they rewound about five minutes of play. Man, that must have taken a lot of time to learn everything in reverse. Pretty cool.

At the half, we ventured down to courtside and we're led down into the belly of the beast, aka Arco Arena's lower level. There we met with Big Easy, Flight Time and the rest of the Globetrotters. Very nice guys, if a little technologically challenged: they didn't know what a Flip style camera was. Instead, they thought it was a still camera. An honest mistake.


Big Easy towered above me at 6'9" but thankfully he was not hostile, but was very friendly. He and Flight Time looked exactly the same as when we saw them on CBS's The Amazing Race. Too bad they didn't win.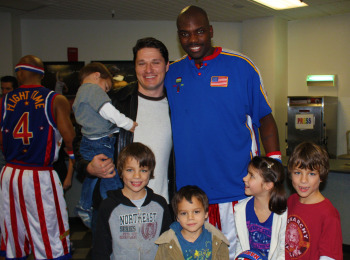 But they, along with the rest of the team, did "win" the game against the evil green team.
Good times!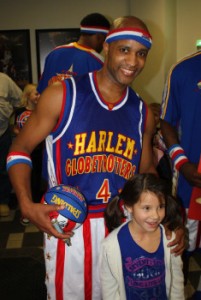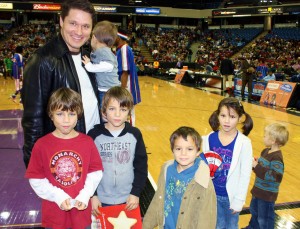 The Harlem Globetrotters help create fantastic memories and laughs around the world… Would you like to see them when they come to your city? You can save $7 on each ticket purchased using the special promotional code: HGMOM. Check www.harlemglobetrotters.com to see if they are coming to a city near you and to purchase your tickets. (Please Note: special discount is not valid on VIP or courtside seats, is available online only, and valid until the day before the show.)
We received tickets to see the Harlem Globetrotters as compensation for helping to spread the word about the discounted ticket prices. We also received a Harlem Globetrotter's prize pack in exchange for hosting this giveaway.