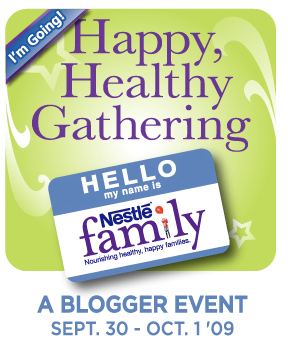 Some of you may know that I just spent two days at the headquarters of the world's #1 food corporation – Nestle. Nestle had the fabulous idea of bringing together a group of mom and dad bloggers, all-expenses paid, as somewhat of a first step in engaging in the social media space. Due to some of the "bashing" by some die-hard activists, who made it their personal mission to judge me for being there, I couldn't quite make up my mind – should I blog about my experience with Nestle? And if so, when and how, exactly?

As I sit here on my plane trip home I decided that I will, in true YoungMommy fashion, write about my last two days, just like I would after any other event which I've been privileged to attend. Not because it's expected of me, but because I want to – plain and simple. I plan to talk about my reasons for accepting Nestle's invitation, what I discovered, and what I gained by this amazing experience. On a different day.

First, let me make myself very clear :: I'm not interested in debating Nestle's practices or ethics. If you came to MY space with the goal of engaging me in any further discussion about why I am a "horrible person for accepting such an invitation," accuse me of having "no ethics" or of being a "corporate shill," please leave. If you are here to try to convince me that "Nestle kills babies" or "Nestle's chocolate is blood-laden," I am not interested in your comment – I've heard you loud and clear, but I will do my own research. If you would like to be polite and feel I may not have heard you before, feel free to email me.

To my dear readers who may be shocked by my uncharacteristic disclaimer, let me assure you that I will point you in the direction of the posts, tweets, and comments that led to this need. I encourage you to do some research yourself and seek to discover both sides, but I will not link to posts, sensationalized propaganda, or slanted media that only seek to point out Nestle's "evil."

Now, please take a look at my Whrrl stories from this week, found on my right sidebar, while I try to find my Butterfinger…

Comments will be moderated and deleted if you do not consider my wishes. My blog. My rules.