I've told this story a million times.
And I could tell it a million more.
I truly feel that our story is an amazing testament to
the Hand of God working in my life and the lives of my babies.
We were created and preserved for great things, I am convinced!
Ray and I had only been married 7 months. We were in the middle of training for a mission trip to India and were simply just enjoying our new life together. We knew we wanted to have children, but thought we would wait a little while before even entertaining the idea.
The day I discovered that I was pregnant was one of the happiest and scariest days of my life. The day we discovered we were having twins was double that!
I went in for my first prenatal appointment and was sharing with my doctor how sick I was. She commented that I was measuring a bit large for only being 9 weeks pregnant and decided to do an ultrasound, even though they typically would have waited until my next appointment. Well, to the doctor's surprise – and ours, I must say – there was not only one baby on the screen, but TWO! "No wonder you're so sick," she said as she moved the screen so we could see our two little babies. Imagine our surprise!! We had just gotten used to the idea of being newly wed parents, but now we were going to be mommy and daddy to twins?! Double wow!!

I was sick – very sick – throughout my entire pregnancy. I was sick in the morning, sick in the afternoon, sick in the evening, sick during the night. I couldn't do much of anything and I certainly couldn't eat much of anything – nothing that I could keep down, anyway.
At 30 weeks along in my pregnancy, I began to retain a lot of water and just didn't feel right My ankles were huge and my face even started swelling. I called my doctor and immediately went to see him. After taking my blood pressure and asking me a few questions, he told me that I had pre-eclampsia (also known as toxemia) and that I needed to check myself into the hospital right away. My blood pressure was dangerously high, and my liver and kidneys were beginning to shut down, but all I could think about was my babies…. Were they okay? What was going to happen to them? Were they healthy?
Once I was admitted at the hospital, they put me on all sorts of drugs – drugs that kept my blood pressure down and drugs to prevent seizures. The babies were even given steroids to speed up the development of their lungs. I was monitored closely for 4 days. I looked much like the Michelin Man as I gained almost 75 pounds of water! On the fifth day I had such a severe headache – a headache that no amount of pain medication would deter – and they decided to induce labor.
After 12 hours of labor, my baby boys were born just two minutes apart – Ethan was born first, and weighed a mere 2.5 pounds, then Zachariah was born, not much bigger, weighing only 3.3 pounds.

I barely got to kiss my babies before they were whisked away to the Neo-natal Intensive Care Unit. They were so tiny and looked so fragile, but I knew they were in good hands – We had a whole army of people praying for those babies!
Three days after Ethan and Zach were born, I went home. Oh, the agony of going home without my babies!! I cried the entire way home, but visited my babies in the hospital every single day. I held them and rocked them, prayed over them and talked to them. They were the most precious little things I had ever seen and they were mine!
Ethan and Zach were healthy from the start and became stronger every day. After five weeks in the NICU, Zach got to come home. Two weeks later, Ethan came home! I can not express the joy and excitement I felt when I finally got to bring my babies home!!
Now, nine years later, my little miracle babies are not quite babies any more. They are handsome, slightly goofy, incredibly intelligent, adventerous little men!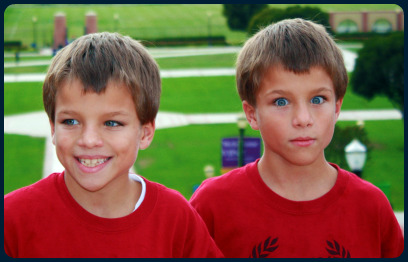 HAPPY BIRTHDAY BOYS!!