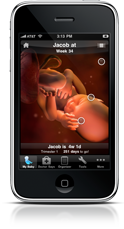 Baby flutters. Counting down the days. Gathering baby essentials. There are so many exciting moments to be had while baking a baby. But, there are some great products and services out there to make the joyous time for an expectant mom even more enjoyable. I'd like to tell you about a few I've been able to try.
Even though this is baby number 7, I am just as thrilled to (re)discover the development and growth of Baby. The Sprout iPhone App is ever ready, at just the touch of a finger, and provides detailed 3D images, week-by-week advice, check-lists, and more. My kids and I love to see what Baby looks like every week and read all about how he is developing. The Sprout App has been a great tool!
I had never played music for my babies in utero before now, but I hear that the latest trend among moms-to-be is playing music as a way to bond with their baby. I was sent some Bellybuds to try and have found these wearable speakers to fit comfortably on my belly, while providing me the freedom to go about my day. Whatever I am doing, whether it be exercising, working at my computer, or playing with my kiddos, I can share prenatal music, or even recorded voice messages from loved ones, with my growing baby. I'm not sure how often I will use the Bellybuds but it's a nice thought, no?
As many of you know, I have experienced perpetual nausea during this pregnancy. Most of the time the nausea can be curbed by eating just about anything, but sometimes consuming a little snack just isn't possible. Like when I'm on the go and run out…heehee Keeping a few B-Natal Vitamin B6 Therapops in my bag for when I run out of crackers or granola bars has been a life saver! The cherry flavor is just enough to provide sweet relief and it's comforting to know that the key ingredients of Vitamin B6 and sugar are natural and safe for me and my baby.
Are you expecting? What are some things you find as helpful or enjoyable these days?
I received B-Natal Therapops and the Bellybuds for the purpose of this review. However, I purchased the Sprout iPhone App shortly after I discovered that I was pregnant.