Just a couple days ago, one of my boys came to me complaining about how bored he was during this week-long break from school, and how he had nothing fun to do. Mind you, we have a house full of toys, gadgets, and books. It's beautiful outside and he and his brothers have bikes, scooters, and skateboards. This particular child happened to be holding my Kindle Fire that is full of kid-friendly games, and he had just handed me his Christmas Wish List.
More times than I'd like to count, this week alone, one or more of my children has complained that there was nothing to eat. If you have been to my house, you know this couldn't be further from the truth – our pantry is always full and our refrigerator is overflowing (if truth be told, we actually have 3 refrigerators). However, we did just run out of their favorite snacks, and we are out of milk.
I'm saying all of this not to brag about how much we have, but to illustrate the very real fact that my kids do not appreciate all we have, but instead focus on what they do not have. We all do, to a degree, I think. I am truly just as guilty. Especially this time of year, it's all too easy to get caught up in the hustle and bustle and distractions, without focusing on being grateful for what we do have and the beautiful spirit of giving.
So, my kids and I had a conversation. We wrote down all that we have to be thankful for and gave thanks to God. We placed these lists in our TeddyTank and each time we walk by this "tank full of thanks" we pull out a list and read it to remind ourselves of how truly blessed we are.
But, we didn't stop there… We talked about how we have friends who are really struggling right now. Friends who don't have more than two cans of soup in their pantry right now. Friends who are barely able to pay their bills, let alone buy Christmas presents for their kids. We took a trip to Walmart and bought bags full of dry goods to donate to our local food pantry, and we came up with a plan to make sure some of our friends have a present to open on Christmas morning.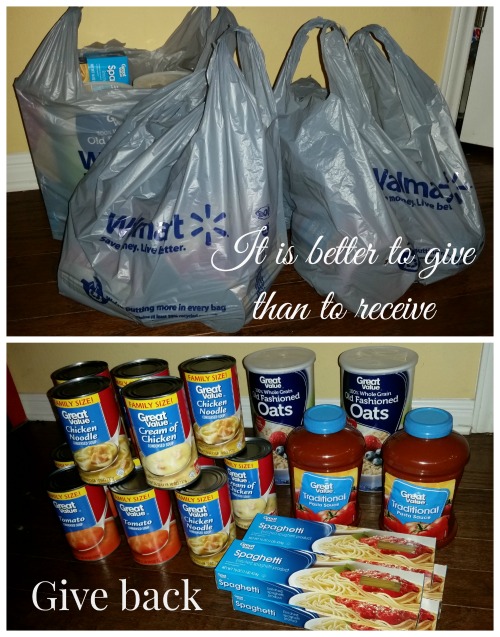 It's the little things, but it's a start.
As a participant in the Walmart Moms Program, I've received compensation for my time and efforts in creating this post. All thoughts and opinions are my own.