We love anything strawberry around here – strawberry jam, strawberry smoothies, strawberry cake. But, there is nothing quite like the juicy, fresh-out-of-the-garden strawberries.
Just ask Josh. Over the weekend he was super excited to pick them straight from Mimi and Poppy's garden. He was the only one who seemed so interested in seeking them out, snipping them from the plant, and even washing these red little gems. I'm sure his favorite part was nibbling on them through the process, though.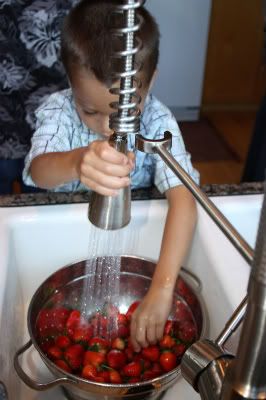 Did you know that the strawberry is not a berry, but are actually considered an accessory fruit? It's true. True berries, such as blueberries and cranberries have seeds inside. The strawberry, however has its dry, yellow "seeds" on the outside – each of which is actually considered a separate fruit!

More fun strawberry facts:
Seedy characters. On the average, there are 200 tiny seeds in every strawberry. If all the strawberries produced in California this year were laid berry to berry, they'd wrap around the world 15 times. That's enough strawberries to provide every U.S. household with 12 pint baskets.
Great tip for summertime! Strawberry juice combined with honey will reduce inflammation or sunburn. Rub the mixture thoroughly into the skin before rinsing off with warm water and lemon juice.
A healthy snack. Eight medium-sized strawberries contain 140% of the U.S. RDA for Vitamin C. One cup of fresh strawberries provides about 88 milligrams of ascorbic acid, which more than meets the Recommended Daily Dietary allowance of 45 milligrams for the average adult. Vitamin C is well retained when the strawberries are handled carefully. Capping, injuring, cutting, or juicing, however, will reduce the vitamin content.
Are you weird? Respondents to a recent national survey labeled strawberry lovers as "health conscious, fun loving, intelligent and happy." Non-strawberry lovers, on the other hand, were described as "weird, boring, stuffy–picky, fussy eaters who avoid healthy foods."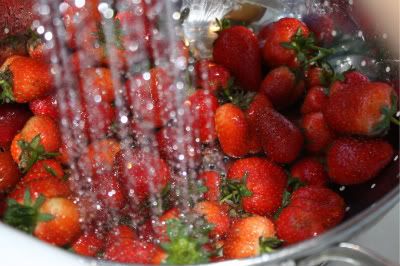 And some fun activities to do with your kiddos:
Grow strawberries at home or visit a strawberry farm
Hull and halve strawberries and you've got heart-shaped stamps. Let the berries stand at room temperature a few minutes after slicing to get the juices flowing.
Have a strawberry taste test. Small and medium-sized strawberries tend to be a little sweeter and more flavorful than their giant counterparts. If you happen to find both a huge strawberry (usually from the supermarket and shipped in from a large farm) and a small strawberry (from local farms or your own garden), do a quick taste test. It's a good lesson that bigger isn't always better!
How do you like to eat your strawberries?
Facts courtesy of The California Strawberry Commission
Activities found at preschoolrock.com