My kids and I love fresh peaches, nectarines, and plums; the juicy stone fruit doesn't last long around here. So, when Walmart asked me to highlight their stone fruit and the 100% freshness guarantee, I jumped on the opportunity. I think my kids were just as excited as I was. In fact, I had to fight everyone off while I prepared the ingredients for the sweet compote I wanted to make!
I was pleased to find the fruit at our local Walmart to be quite beautiful and very fresh. I've always been leery about which fruit to purchase, mostly because I've never been good about identifying which pieces are ripe enough to eat and not just bruised.  The following Tips from the Farm on choosing peaches is incredibly helpful —
Every one of the peaches, nectarines, and plums that I purchased for my compote were just right. If not, however, I would have marched back to Walmart and cashed in on the 100% money-back guarantee. (So glad I didn't have to do that!)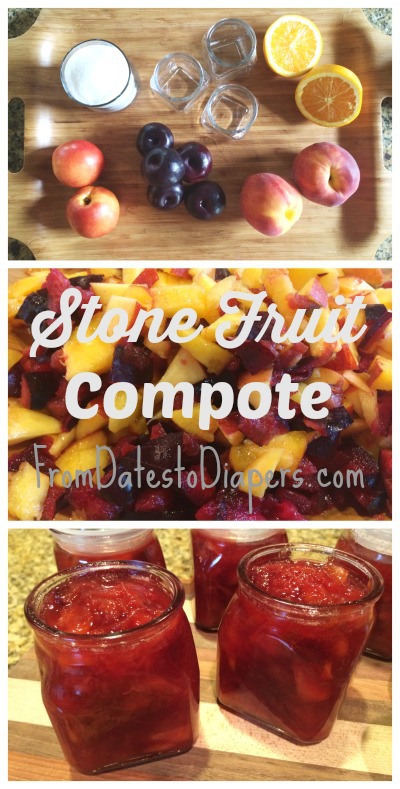 For our Stone Fruit Compote I adapted a recipe for jam that I found in one of my old cookbooks. I didn't want the sparse chunkiness of jam, but rather I desired it to be really chunky, so the goodness of the fruit could be savored. Julia is trying to eat the compote directly from the jar, as I type this, but I plan to use this deliciousness as a topping for ice cream, on toast, or spooned on to a piece of coffee cake. The possibilities are endless!
This recipe is super easy and pretty quick. The hardest part is cutting up all the fruit, but if you nibble on it as you cut, you forget about the work involved!
I juiced an orange, mixed the juice with 1 1/2 cup granulated sugar in a large saucepan, and brought it to a hard boil on the stove. I placed the chopped fruit of 2 large peaches, 2 nectarines, 5 small plums, and a bit of zest from a lemon into the sugar mixture, stirring until the sugar dissolved and the mixture began to boil again. I then reduced the temperature to low and allowed the fruit to simmer for about 20 minutes, mashing and mixing occasionally.  When done, I poured the mixture in to small jars and placed in the refrigerator to cool.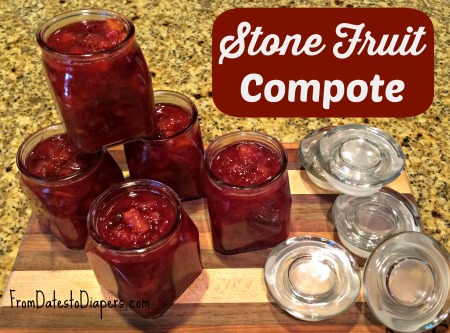 I ended up with quite a few extra peaches after making my compote, so I decided I would make some fresh Peach Lemonade. Timmy helped me juice the lemons, and then we added a bit of water, sugar to taste, and a sliced peach to the carafe. A fresh peach slice was the perfect garnish, but let me just tell you that it disappeared (all that was edible) almost immediately after Julia snapped a few photos for me! It's the perfect refreshment on a hot summer day.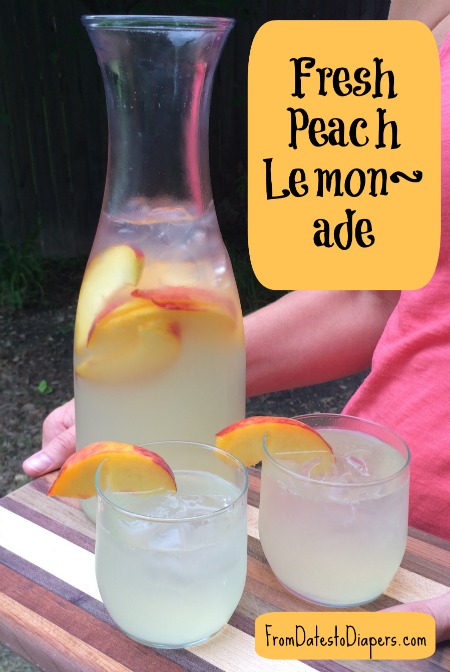 Here are some other great ideas to sink your teeth in —
What is your favorite stone fruit? And how do you like it? I'd love to see your favorite recipes!