It rained three days this last week, but Noah asked every day – multiple times – if it was summer yet. That boy is itchin' to spend time outside. He wants to feel the sun on his skin. He's dying to play in the water. Heck, he played outside every day this week! He didn't care if it was raining.
Me, on the other hand? I don't like to be cold. Or hot. A perfect day, in my book, is a breezy 70 degrees, with only white, puffy clouds in the sky. Think Hawaii. Or San Diego. I'd be outside every day if I lived in either place.
But, it's not all about me…
With Noah dying to be outside, Ben's newfound freedom found in riding a two-wheeler, and my new rollerblades, we've spent a lot of time roaming our neighborhood streets and trails this week. Ignore the cold weather. Ignore the wind. Ignore the allergies. We've had fun!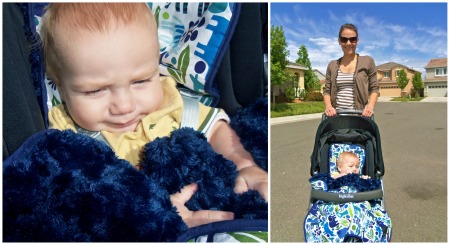 You can tell in that picture of Timmy that it was windy… poor baby could barely keep his eyes open! In spite of it, I think he enjoyed being outside almost as much as the rest of us, though. Well, I don't think any of us enjoyed it as much as Noah did, but close.
Being that he can't move around like the rest of us, I had to bundle Timmy up against the cool wind. Good thing he likes his lovies and soft blankets more than any toys! When Timmy was really little myMonkeymoo sent us their stroller blanket, stroller pad and a Monkey Bucket.
The blanket and pad have become a must-have when we're out and about, but you will often see any one of my kiddos carrying around the blanket around the house… It's one that you just like to snuggle! The Monkey Bucket came in super handy when Timmy and I were in Florida. It was a perfect little place for park tickets, sunscreen, my phone and sunglasses – everything we needed close by, but couldn't lose. I'm sure Timmy will love keeping all of his goodies in it as he gets older.
Win it!
Have your kiddos been dying to get outside, regardless of the weather? Well, myMonkeymoo wants to make sure that your little one stays nice and cozy! Leave me a comment, before 9pm on May 31st, telling me about what you have done to help keep your kids from driving you crazy with the countdown to summer. Your comment will enter you to win a Stroller Pad and Blanket Set and it'll help me figure out what to do with Noah!
For additional entries, you may leave a comment if you follow myMonkeymoo on Twitter and yet another if you "like" the myMonkeymoo page on Facebook.
Benefited giveaway