My family and I are big fans of pancakes. My sis-in-law told me the other day that she had found a recipe that made scrumptious pancakes that tasted like those you could order at IHOP. I'll take her word for it… I have only made pancakes completely from scratch maybe once. And I'm okay with that. Don't get me wrong, I love IHOP pancakes. As long as I don't have to make them. Depending on who makes them, we will either enjoy pancakes made from Bisquick or those made with Krusteaz. Easy.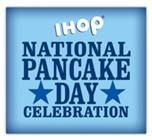 I am super excited that IHOP will be offering a free short stack of their famous buttermilk pancakes to each guest tomorrow, from 7 am to 10 pm. Not only am I excited about the free pancakes, but IHOP is asking for donations, in exchange, to support the Children's Miracle Network Hospitals programs.

Each Sacramento area IHOP will collect donations for this program specifically for UC Davis Children's Hospital. This makes me happy for more than one reason, but largely because Ethan and Zach spent the first few weeks of their lives at that very hospital.

So, go enjoy some free pancakes at IHOP tomorrow, and touch the life of a child while you're at it!