It was fifteen years ago today. The hottest day of the year. I was to vow to love, honor, and cherish my best friend all the days of my life, and I was a bundle of nerves.
As I walked down the aisle, on my father's arm, I saw my best friend waiting for me and nothing else mattered. I forgot about the heat, the butterflies in my stomach, the 250 people in the small church sanctuary to witness our union. There was just him.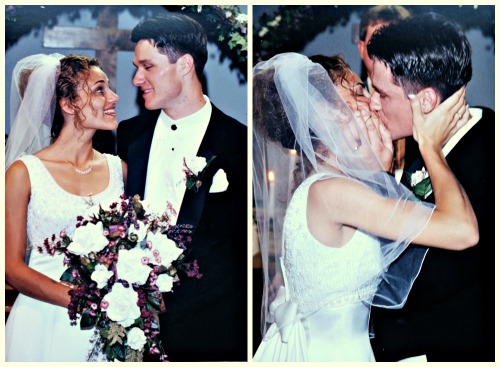 That day we began a journey. A wonderful, crazy, chaos-filled, sometimes rocky, but always steady journey. A journey I wouldn't want to share with anyone but him.
Happy Anniversary to my best friend, my husband, my love! I didn't think it possible then, but I truly love and adore you more today than I did on this date fifteen years ago.
"When I found the one my heart loves, I held him and would not let go… Let him kiss me with the kisses of his mouth ~ For his love is more delightful than wine."